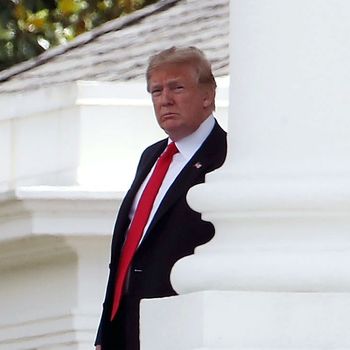 If this is a Trump power grab, it was done without the usual bombast.
Photo: Mark Wilson/Getty Images
The news arrived via Government Executive with all the drama of a bassoon solo in the world's most boring symphony:
The White House announced Tuesday that President Trump has signed an executive order moving the hiring of administrative law judges from the competitive service into the excepted service, giving the president and agency heads broader latitude in appointments.
But former vice-presidential chief of staff (under both Gore and Biden) Ron Klain wants you to WAKE UP AND SMELL THE OUTRAGE!
The Klain column in question drew attention to a memo from Federalist Society co-founder Steven Calabresi proposing, among other items tightening the grip of conservatives over the judiciary, this step on administrative law judges (ALJs):
Calabresi has also proposed that Congress abolish 158 administrative law judgeships in federal regulatory agencies, such as the Environmental Protection Agency, Food and Drug Administration, Federal Communications Commission, and Securities and Exchange Commission, and replace these impartial fact-finders with a new corps of 158 Trump-selected judges who — unlike current administrative law judges — would serve for life. 
Trump's order does not track the Calabresi recommendation. It actually applies to a far larger number of ALJs (there are approximately 1,900 of them, with a big majority assigned to adjudication of benefits claims under the Social Security Administration), but does not create lifetime terms or create some centralized hiring process in the White House. And while it might be consistent with a "power grab," the action was in fact all but mandated by a recent Supreme Court decision casting extreme doubt on the constitutionality of decisions made by ALJs hired under civil service rules rather than Executive branch appointments, as Government Executive explains:
The order cites the recent Supreme Court decision Lucia v. Securities and Exchange Commission, in which the court found SEC administrative law judges are considered "inferior officers" under the Constitution and, as such, are subject to the Appointments Clause. It pulls administrative law judges out of the competitive service where they are vetted by the Office of Personnel Management and into a more traditional appointment process.
If Trump had not acted, hundreds of lawsuits from people aggrieved by ALJ decisions might have soon been filed. But that's not to say that the shift to what is essentially a political appointment process for ALJs isn't subject to abuse, especially under an administration like Trump's. Even in the tediously bureaucratic landscape of Social Security Administration cases, you could see politically appointed ALJs implementing the increasingly evident conservative ideological belief that there is massive fraud in disability determinations. And if the heavy hand of partisanship or ideology extended to cases involving ostensibly neutral agencies like the National Labor Relations Board, real damage to impartiality could be done.
More subtly, the order changes the power balance when it comes to this issue. Calabresi was proposing that Congress give Trump new powers over ALJs. Now it would require congressional action to take those powers away. If, say, Democrats retake the House this November, they could stop "power grabs" by Trump before they began. But so long as they have 41 senators the GOP can block efforts to reduce Trump's appointment powers.
So it's really one more straw in the wind indicating the dangers associated with a power-hungry presidency, and for Trump's opponents, another reason to bring his tenure to a close as quickly as possible.