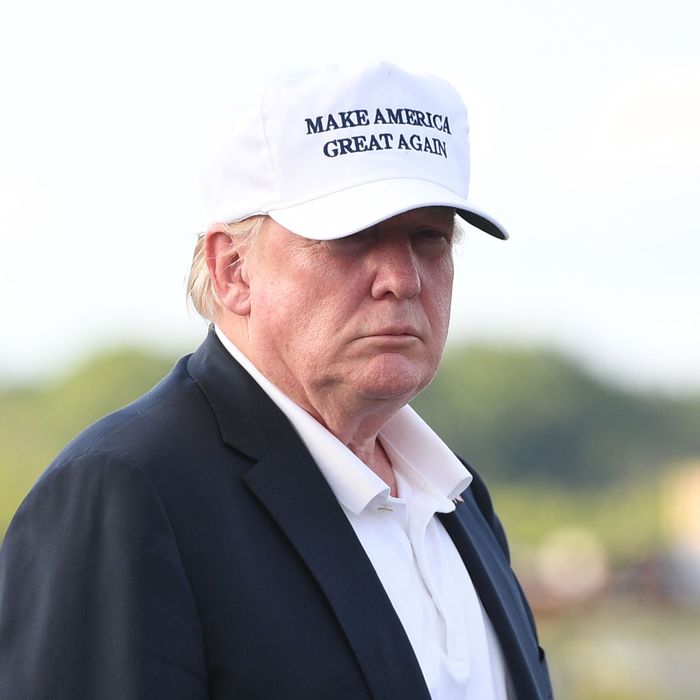 Nobody enjoys confusing and upsetting friends and foes alike more than Donald J. Trump.
Photo: Jim Watson/AFP/Getty Images
There is nothing Donald Trump enjoys more than issuing threats — real, reversible, or entirely empty. So the possibility of a government shutdown, which arises regularly when annual (or more often, stopgap) appropriations are due to expire, is a happy perennial sandbox for the president. He started making shutdown threats from the moment he signed a bill extending appropriations until the end of the fiscal year. His complaints included both the supposedly excessive domestic spending that Republicans had been forced to accept in order to get a funding bill out of the Senate, and (more pointedly) his failure to secure border wall funding.
On the latter front, Paul Ryan and Mitch McConnell met with Trump last week and began signaling that POTUS would come around and let the government stay open even if he didn't get the $25 billion he's demanded for his precious wall, as the Hill reported:
Senate Majority Leader Mitch McConnell (R-Ky.) said on Friday that a battle over funding for the controversial U.S.-Mexico border wall would "probably" wait until after the fall elections….




McConnell's comments on Friday come after Ryan signaled this week that the fight over border wall funding could be pushed until after the Sept. 30 deadline.




"The president's willing to be patient to make sure that we get what we need so we can that done," Ryan said, adding that funding the wall was "not a question of if, it's a question of when."
No matter what Trump told Ryan and McConnell, he may have decided he didn't want anyone to assume he was feeling "patient" about immigration policy. So he took to Twitter over the weekend to renew the government shutdown threat:
What makes this tweet interesting, and maddening, is that Trump seems to be linking his shutdown threat to the changes in the legal immigration system he has been demanding, which unlike border-wall funding, is not an appropriations item. And in case anyone missed it, he did another tweet on Monday making immigration law changes a priority:
This sort of broader agenda is impossible without a deal with Democrats that includes, perhaps among other things, permanent protections for Dreamers. And while Trump has shown himself intermittently open to a deal in which Dreamers get what they need in exchange for Stephen Miller's most avaricious dreams on every other immigration issue, House conservatives are absolutely dead set against anything that could be described as "amnesty," and Ryan & Co. are if anything moving in the opposite direction this fall, as BuzzFeed reports:
House Republicans are working on an immigration bill they hope to bring to the floor in September, but that package does not include anything to help DACA recipients. Instead it would create a temporary work program for agricultural workers, as well as mandating that employers across the country conduct citizenship checks on their employees.
So it's unclear whether Trump is just blowing smoke, or is reiterating his broader nativist agenda to "compromise" later by only going to the mats for border wall money, or in fact, as some observers suspect, would love a government shutdown shortly before the midterm elections that would focus national attention on his pet issue and get his "base" riled up into a hate frenzy.
We probably won't know for sure what Trump is up to until the September 30 appropriations deadline is upon us, and it would be unwise to rely on anything in particular he says — or tweets —between now and then.