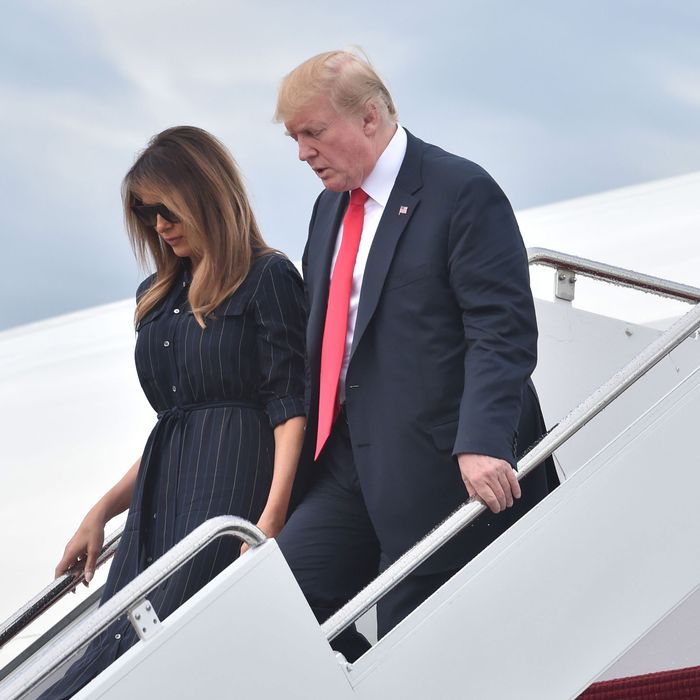 The Trumps step off of Air Fox One.
Photo: Nicholas Kamm/AFP/Getty Images
If there was any question as to whether Donald Trump's combative stance toward CNN, the network he's repeatedly labeled "fake news," is strategic posturing that he doesn't truly believe, a report in the New York Times puts that to rest with a story of his throwing a hissy fit when he saw a TV on Air Force One tuned to the news network.
The TV, the Times reports, was the First Lady's and by watching CNN on it, Melania Trump was violating her husband's Fox News–only policy.
He raged at his staff for violating a rule that the White House entourage should begin each trip tuned to Fox — his preferred network over what he considers the "fake news" CNN — and caused "a bit of a stir" aboard Air Force One, according to an email obtained by The New York Times.
Asked about the story, the First Lady's spokeswoman brushed aside a CNN reporter's question but did say that Melania watches "any channel she wants."
The email obtained by the Times contained another interesting tidbit: a request for two additional TVs for when the president and First Lady travel together, one for each of their hotel rooms.