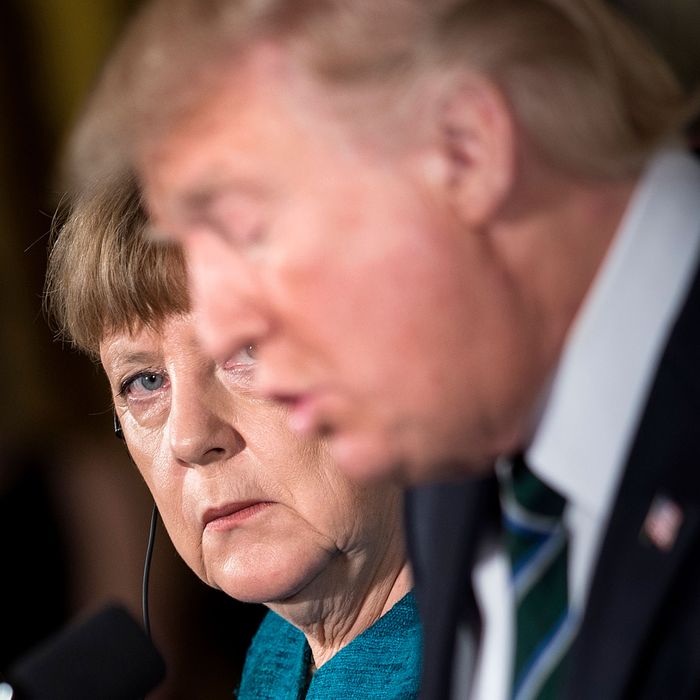 The best of enemies.
Photo: Brendan Smialowski/AFP/Getty Images
Ahead of a NATO summit in Brussels this week, President Trump kept up his unrelentingly aggressive posture toward the 29-nation military alliance, accusing the bloc, as he has so often in the past, of taking advantage of the United States.
As long as he has been a political figure — and for decades before that — Trump has been advancing the misleading notion that America's military allies are ripping the country off.
But now, he'll be confronting an organization whose new most powerful defender — German chancellor Angela Merkel – is in a historically weak position at home.
Merkel was nearly driven out of office last week amid a raging political crisis over migration, and she is now hanging on for dear life. Her tenuous position leaves her worse equipped than ever to counter Trump, who has gleefully undermined her on Twitter. He has reportedly prepared a monologue about the many ways in which Germany is failing, in his eyes, on trade, defense spending, and terrorism.
Meanwhile, as the New York Times reports, European allies view Trump as "different from the one who came to NATO last year — more aggressive, less willing to be moderated or guided by his senior staff and cabinet secretaries, more confident, especially after his meeting with the North Korean leader, Kim Jong-un, in his own diplomatic prowess." They are prepared not to be cowed by the president, and to counter him with a unified message about the bloc's importance, and the important of pushing back against Russia.
On that last point, they're probably going to need much more than a rational argument to sway Trump.