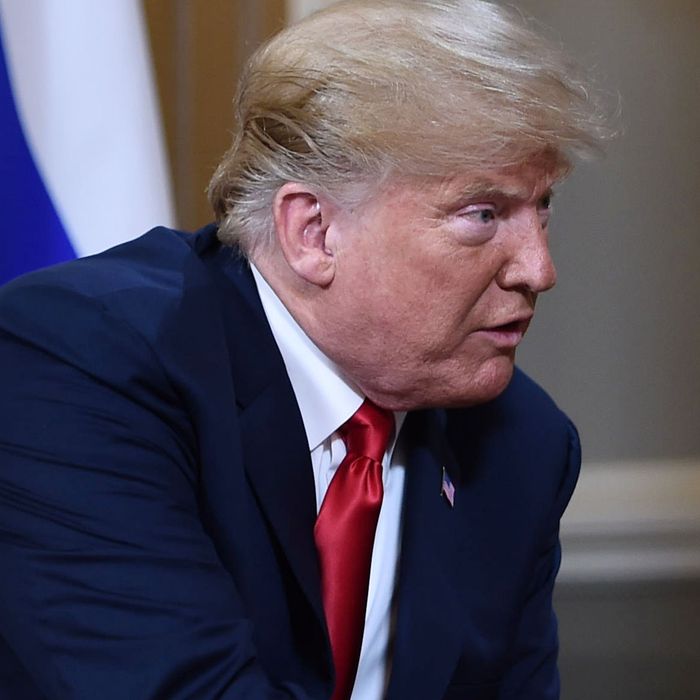 Extraordinary.
Photo: BRENDAN SMIALOWSKI/AFP/Getty Images
On Friday, the U.S. government indicted 12 Russian intelligence officials for committing cybercrimes that were aimed at disrupting — and discrediting — American democracy.
Three days later, following his summit with Vladimir Putin, President Donald Trump suggested that America's intelligence agencies were wrong to believe that Russia intervened in the 2016 election; blamed American law enforcement agents for bringing U.S.–Russian relations to an all-time low; and endorsed a bizarre proposal from Putin, in which Special Counsel Robert Mueller would work with Russian officials to investigate cybercrimes against American political organizations.
At a press conference in Helsinki, Trump said, "I don't see any reason" to believe that the Russian government interfered in the 2016 election, because Putin "was extremely strong and powerful in his denial." The president lamented that, thanks largely to the special counsel's investigation, the relationship between the United States and Russia has "never been worse than it is now" — before clarifying that by "now," he meant "four hours ago" (because his closed-door chat with Putin had ostensibly resolved a bigger geopolitical conflict than the Cuban Missile Crisis).
Early Monday morning, Trump had published a tweet in which he blamed Mueller's "Rigged Witch Hunt" — along with American "foolishness and stupidity" — for the sorry state of U.S.–Russian relations (a sentiment the Russian foreign ministry promptly endorsed). At the press conference hours later, Trump was asked whether he held "Russia at all accountable" for tensions between Moscow and Washington — and if so, to specify what precisely he held Putin responsible for.
"We have both made some mistakes," Trump replied. But instead of naming a single, specific mistake that Russia had made (like, say, invading Crimea, or meddling in American and European elections, or, ostensibly, making a habit of launching botched assassination attempts with Soviet-era nerve agents on the streets of the United Kingdom), the president focused on the great mistake that America had made — when it chose to investigate Russian interference in the 2016 election.
"The probe is a disaster for our country," Trump said. "I think it's kept us apart, it's kept us separated. There was no collusion at all. Everybody knows it."
Trump went on to endorse Putin's idea for how that probe should operate going forward: Russian law enforcement would agree to interrogate the 12 Russians that Mueller had indicted — and allow members of his team to observe those interrogations — in exchange for the United States agreeing to interrogate American intelligence officials whom the Kremlin has accused of committing crimes against Russia (with Russian law enforcement in the room).
"We would expect that the Americans would reciprocate," Putin explained, "and they would question officials, including the officers of law enforcement and intelligence services of the United States, who we believe have something to do with illegal actions on the territory of Russia, and we have to request the presence of our law enforcement."
Trump praised this "interesting idea," and cited Putin's offer as evidence that the Russian government did not interfere in the 2016 election.
But it might actually be evidence of the opposite. Putin offered precisely one example of the kind of American criminal he was hoping that the U.S. would help him interrogate: Bill Browder, an American client of Russian lawyer turned anti-corruption whistleblower Sergei Magnitsky. After Magnitsky revealed evidence of malfeasance by Russian authorities, Putin's government put him in prison — where he died in 2009.
Following Magnitsky's death, Browder lobbied the U.S. government to impose sanctions on those responsible for his lawyer's alleged torture and murder — a group that included Russian elites with close ties to Putin. And in 2012, the U.S. did just that with the Magnitsky Act.
This did not endear the Russian government to Bill Browder.
"Business associates of Mr. Browder have earned over $1.5 billion in Russia. They've never paid any taxes, neither in Russia or the United States," Putin claimed in Helsinki. "And yet the money escaped the country. They were transferred to the United States. They sent a huge amount of money — $400 million — as a contribution to the campaign of Hillary Clinton. Well, that's a personal case. It might have been legal, the contribution itself, but the way the money was earned was illegal."
There is no record of Browder, or any entity connected to him, making a $400 million donation to Hillary Clinton's campaign (which would be an extraordinary violation of campaign-finance law). There are, however, many infamous records of a meeting between the Trump campaign and Russian nationals — in which the latter offered the former "dirt" on Hillary Clinton in exchange for a commitment to roll back the Magnitsky Act. As the Washington Post's Philip Bump notes:
What dirt Trump Jr. might have been expecting on Clinton wasn't clear, but we have a good sense of what was actually offered. Trump Jr.'s original, misleading statement indicated that the meeting with Kremlin-linked attorney Natalia Veselnitskaya was focused on the issue of Russian adoptions. The statement was dictated by President Trump, The Post later reported, on his flight back from a meeting of the Group of 20 in Europe in which he and Putin discussed, among other things, adoptions. Trump Jr. later released his emails, which made clear that adoptions weren't the predication for the meeting.




But they weren't unimportant. Putin is focused on the issue of adoption because curtailing the adoption of Russian children by Americans was a response to sanctions imposed by the United States after the death of an anti-corruption lawyer named Sergei Magnitsky … Veselnitskaya had been working on the Magnitsky/adoption issue for a while, arguing for a reversal of the sanctions to allow adoptions to proceed. She admitted this year that her past denials of a link to the Kremlin were false and that she was in contact regularly with Russia's prosecutor general.
Trump's performance in Helsinki received a chilly reception in Washington — on both sides of the aisle. House Minority Leader Nancy Pelosi (who has previously implored Democrats to show some restraint on the Trump–Russia scandal) said Monday, "President Trump's weakness in front of Putin was embarrassing, and proves that the Russians have something on the President, personally, financially or politically."
House Speaker Paul Ryan, meanwhile, said in a statement, "There is no question that Russia interfered in our election and continues attempts to undermine democracy here and around the world."
"The president must appreciate that Russia is not our ally," Ryan continued. "The United States must be focused on holding Russia accountable and putting an end to its vile attacks on democracy."
Trump's sit-down with Putin comes at the end of a weeklong European trip during which the U.S. president suggested that the E.U. is America's biggest "foe"; that our NATO allies are "delinquent" on their military spending; and that immigrants were destroying Europe's "culture."
Early Monday morning, Trump suggested that this unconventional diplomatic approach had actually pleased America's E.U. allies. "Received many calls from leaders of NATO countries thanking me for helping to bring them together and to get them focused on financial obligations, both present & future," the president tweeted. "We had a truly great Summit that was inaccurately covered by much of the media. NATO is now strong & rich!"
Meanwhile, German foreign minister Heiko Maas struck a different note in an interview with the Funke newspaper group.
"We can no longer completely rely on the White House," Maas said Monday. "Europe must not let itself be divided however sharp the verbal attacks and absurd the tweets may be."