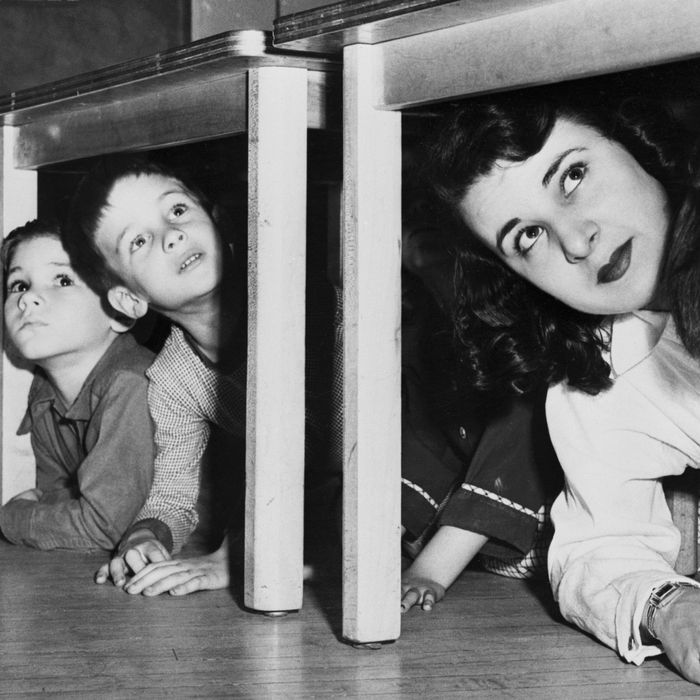 When Trump was a lad, U.S. schoolchildren would regularly fall to their knees to pray for our friends in Russia.
Photo: Bettmann/Bettmann Archive
During the past few weeks, we've watched the U.S. president lavish praise on North Korea's dictator, harshly criticize the British prime minister during his first U.K. trip, and proclaim the European Union our biggest foe. On Monday morning, just before heading to his meeting with Russian president Vladimir Putin in Finland, President Trump tweeted some more political analysis from Bizarro World.
First, Trump claimed that NATO leaders called to thank him for bringing about an imaginary diplomatic breakthrough … but of course the crooked media doesn't want to talk about it!
Then Trump complained once again that President Obama did nothing to stop the Russian election meddling that he publicly encouraged.
But we can't blame Russia for being fired up about the Trump campaign. Trump lamented that years of American "foolishness and stupidity," and now Robert Mueller's probe, have insulted our friends in Moscow. Now our relationship with Russia has "NEVER been worse," says the man who was alive throughout the Cold War.
Trump admitted in a Good Morning Britain interview released on Monday that he doesn't actually know Putin that well; maybe the former KGB agent who kills his political and media opponents is a "ruthless" guy, maybe not. "But if we can get along with Russia, that's a good thing," Trump noted.
Clearly someone needs to make amends with the Russians after the shabby way we've treated them. Hopefully Trump is the man for the job!