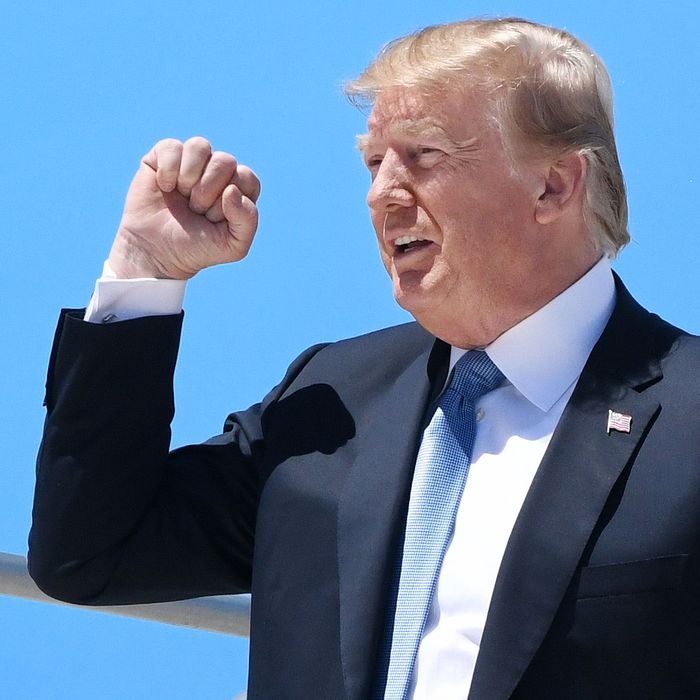 Out with the blue.
Photo: Olivier Douliery/AFP/Getty Images
President Trump wants to make Air Force One Great Again, and according to Axios, that would involve at least two distinct changes to the presidential jet. Trump reportedly wants to ditch the subtle blue paint job for something "more American." And he wants to add a bigger bed.
Trump personally negotiated the deal with Boeing for two new 747s back in February, and Mike Allen reports that he suggested a major change to the plane's exterior.
We're told that Trump wants a color scheme that "looks more American" and isn't a "Jackie Kennedy color." He doesn't think the current blue (technically "luminous ultramarine") represents the USA.
That color has been on the exterior of the plane since JFK's presidency, when he, not his wife, chose it over a red-and-gold color scheme. But Trump reportedly wants a more on-the-nose design that incorporates red, white, and blue. He also wants to make at least one change to the interior of the plane. Allen reports that Trump thinks it needs a bigger bed that's more like the one on his personal 757, which he flew during the campaign, replacing the "couch-like sleeping configuration" on the current Air Force One.
The bad news for Trump is that if he is ever to board the new and improved 747s, he'll have to make it to a second term. The new planes are unlikely to be ready before Inauguration Day 2021.