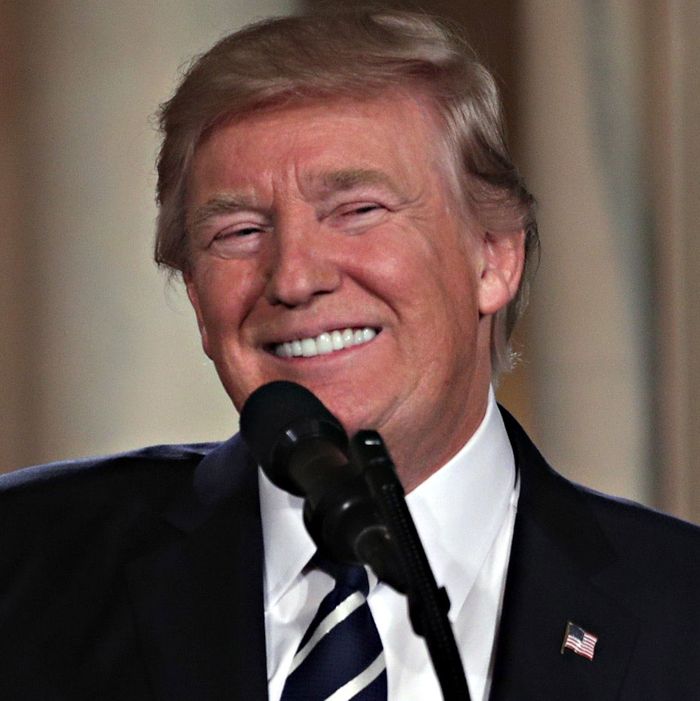 When Trump announced Neil Gorsuch as his first Supreme Court nominee, the president was very much the star of his own show.
Photo: Alex Wong/Getty Images
There will be an array of rumors circulating in the news media this weekend about the identity of the president's choice for the crucial Supreme Court position opened up by retiring Justice Anthony Kennedy. Some will give the nod with great certainty to one of the alleged Final Three in the competition: Seventh Circuit Judge Amy Coney Barrett, D.C. Circuit Court Judge Brett Kavanaugh, and Sixth Circuit Judge Raymond Kethledge. Others will predict a surprise from beyond that tight circle (Senator Mike Lee is a good bet for another round of rumors).
You'd be wise to tell yourself "Don't believe the hype." The most convincing indications are that Trump is determined to keep the world in suspense about this fateful decision before revealing it Monday night on live TV in an approximation of the reality-show format he mastered long before running for president. It is, after all, what he did in naming his first SCOTUS nominee, Neil Gorsuch, in 2017, a process that avoided the usual chronic Trump White House leaks and involved some deliberate misdirection, as Politico notes:
President Donald Trump could barely contain his glee that the decision to nominate Neil Gorsuch to the Supreme Court had been largely kept under wraps, further heightening the drama of his prime-time January 2017 announcement.




"So, was that a surprise? Was it?" Trump, relishing the moment, asked just seconds after ushering Gorsuch in front of a cheering crowd assembled at the White House.




[N]early 18 months later, Trump wants a repeat of his reality show reveal, according to three people close to the president. Trump has told aides that he sees the Gorsuch announcement as one of the high-water marks of his presidency, and he has warned his associates against leaking his next Supreme Court pick in a bid to ratchet up the intrigue.
A big part of the process last year was to keep the number of Trump aides who know his choice to a minimum. What's unclear is whether the rumors that always self-generate in the absence of real news were natural or were actually given a nudge by the White House. Certainly Trump aides contributed to one element of the suspense leading up to the Gorsuch announcement, as the New York Times reported:
For Judge Thomas M. Hardiman, the road to the Supreme Court ended in Altoona.




This week's high court runner-up — who helped pay for his education by driving a cab — drove east from his office in Pittsburgh shortly after noon on Tuesday, just as White House officials were whispering that he was heading toward Washington to an "Apprentice"-style finale with Judge Neil Gorsuch where President Trump would announce his first Supreme Court pick.




At around 3 p.m., under the watchful eyes of a CNN camera crew, he stopped at a gas station in Altoona, then disappeared. 
Turns out Hardiman was visiting a fellow judge in Altoona, but his road trip sure added to the buzz. It wouldn't be surprising to hear the same sorts of false reports heading toward Monday's Big Show; if the actual choice does leak, it won't be easy to distinguish the truth from another bit of misdirection. And it's not just a matter of Trump repeating last year's PR success: the less lead time media folk have to obsess about the actual nominee, the more the focus stays on Trump himself. And that's how the 45th president likes it.