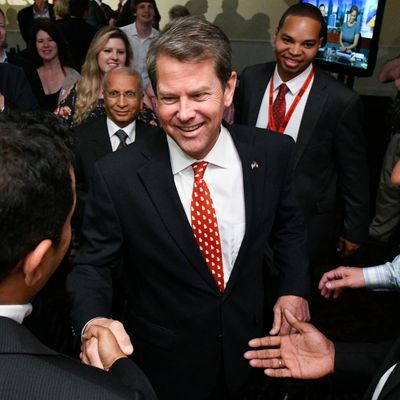 Brian Kemp won handily for several reasons, but Trump will get the credit thanks to his late endorsement of the winner.
Photo: John Amis/AP
The battle for the Republican gubernatorial nomination in Georgia has been raging since spring of 2017, and it has been eventful, before and after Lieutenant Governor Casey Cagle and Georgia Secretary of State Brian Kemp finished first and second, respectively, in the May 22 primary. You could argue that any number of factors helped Brian Kemp win today's runoff, including Cagle's ethics issues and clumsy handling of an embarrassing post-primary conversation that was surreptitiously taped and then leaked; Kemp's fiery, attention-getting ads; the support Kemp won from vanquished first-round candidates; and most of all, Kemp's ability to seize the high ideological ground as a "politically incorrect conservative" in a state party that's really gone off the deep end of late.
But there's no question the factor that will be most often credited for the outcome, especially in the national GOP arena, is the late (and surprise) endorsement of Kemp by Donald Trump. The secretary of state already had some momentum after surging into second place in the primary (traditionally, exactly where you want to be going into a Georgia runoff): he had already taken the lead in three polls before Trump's intervention. But even if Trump simply jumped on a winning bandwagon, there's little doubt his endorsement helped Kemp turn this into something of a laugher. He's routing Cagle, the longtime front-runner who's been in the second spot in state government for three terms after croaking Ralph Reed's electoral career in 2006, by what will likely be a landslide when it's all over, carrying all but a few scattered counties.
I'm guessing Trump will treat himself to a double scoop of ice cream tonight to celebrate another successful endorsement, which will help him solidify his already formidable grip on the GOP. And perhaps he'll be joined by his Secretary of Agriculture Sonny Perdue and Senator David Perdue, the Georgia cousins who probably talked him into the Kemp endorsement. Kemp was first appointed to statewide office by Sonny when another Perdue protege, Karen Handel, resigned the secretary of state position to run for governor. Handel lost that race to Nathan Deal, but is now in the U.S. House, and is probably among those enjoying the defeat of Deal's endorsed favorite Casey Cagle.
The general election contest between Kemp and Democratic nominee Stacey Abrams (who won the Democratic nomination easily in May) will obviously be a partisan and ideological barn-burner. Abrams is probably the state's most self-consciously progressive Democratic gubernatorial nominee ever, and as noted, Kemp has staked out a position with at least one foot firmly in the fever swamps of the right. Beyond that, the contest will be something of a personal grudge match. Abrams has spent a good portion of her career trying to expand voter registration among young and minority folk who are under-represented in the Georgia electorate. And Kemp, as Georgia's chief election officer since 2010, has fought her efforts tooth and nail and shown himself to be a champion vote suppressor (or as he would put it, a courageous voter fraud opponent).
With polls showing the general election contest close to dead even, it will be quite the battle. Donald Trump will be a factor once again, though this time in an arena whose crowd is broader than the ranks of his adoring partisan supporters.