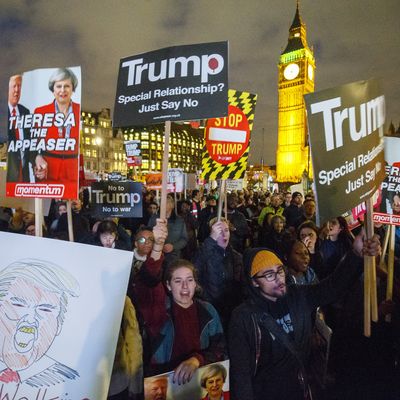 People protest against Trump's state visit in London on February 20, 2017.
Photo: Anadolu Agency/Getty Images
This week President Trump will become the 12th U.S. president to make an official visit to the U.K., and his trip will be the most controversial by far. Prime Minister Theresa May tried to cement the "special relationship" between the U.S. and the U.K. in January 2017 by being the the first foreign leader to visit Trump at the White House. Though there was talk of Thatcher and Reagan, and a source on May's team reported that Trump said he wanted their relationship to be even better, it appears there was no spark between the vicar's daughter and the former reality-TV star. Back home May's announcement that Trump had accepted her invitation of a state visit was met with protests from politicians and the public.
The trip was delayed multiple times and downgraded to a working visit as Trump continued to offend the British over the past 18 months. A YouGov poll released Wednesday showed 77 percent of Britons have an unfavorable opinion of Trump, and only half think the visit should go ahead. Regardless, Trump is set to arrive in the U.K. on Thursday. Here's what we know about the two-day visit, and Britons' plans to protest him every step of the way.
What Trump and May Hope to Accomplish
Trump's aim is to "strengthen and nurture" the U.S. relationship with Britain, according to a U.S. official. U.S. ambassador to the U.K. Woody Johnson was slightly less vague, saying Trump is still interested in a bilateral trade deal with the U.K., which can't be finalized until Britain exits the E.U. It's likely they'll also discuss Trump's broader trade war. Last month May said Trump's decision to increase tariffs on European products is "unjustified and deeply disappointing."
Johnson said Trump and May are "on the same page" regarding the poisoning of a former Russian spy and his daughter last spring, which also killed a British woman and sickened her boyfriend last month. The ambassador said the two leaders would discuss "the issue of the relationship with Russia."
How Trump Offended the British
INCIDENTS THIS WEEK
Trump will arrive in the U.K. just a days after the Brexit crisis engulfed the party that started it. Seven Brexit hard-liners in Theresa May's Conservative Party resigned in protest after the prime minister presented a plan they deemed "Brexit in name only." Resolving the hard-liners' demands for a full split from the European Union with economic and foreign policy realities appears impossible, and initially it looked like her government might fall apart — though the situation has stabilized for now.
Like any good friend would, Trump responded by highlighting May's troubles and praising her enemies as he boarded Marine One, bound for the NATO summit in Brussels, then the U.K. trip, and finally a meeting with Russian president Vladimir Putin in Finland next week.
"So I have NATO, I have the U.K. — which is somewhat in turmoil," Trump said. "And I have Putin. Frankly, Putin may be the easiest of them all. Who would think? Who would think?"
Trump, a Brexit fan, also had kind words for Boris Johnson, who resigned as foreign secretary to protest May's plan. "Boris Johnson is a friend of mine, he's been very, very nice to me, very supportive. And I maybe will speak to him when I get over there. I like Boris Johnson, I've always liked him."
INCIDENTS AS PRESIDENT
Theresa May's big victory during her January 2017 White House visit was getting Trump to reaffirm that the U.S. stands behind NATO 100 percent. As Trump underscored this week, that commitment didn't mean much, and now the visit is mostly remembered for the weird image of May and Trump holding hands as they walked down the White House colonnade (contrary to the conspiracy theories about Trump's fear of stairs, May later said he was trying to be a gentleman, offering her his hand as they walked down a ramp).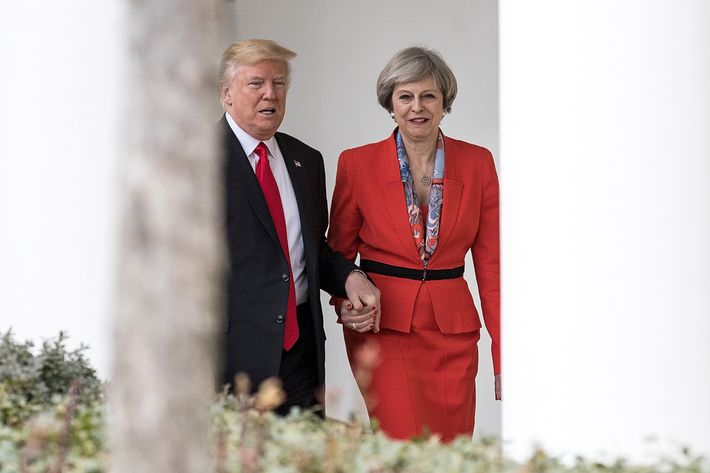 Trump's potential state visit wasn't the only reason Britons were angered by May's trip. Hours after she left, Trump announced his first travel ban, and May was criticized for not immediately condemning the move.
Anger at Trump flared again after the London terror attack in June 2017 that left eight people dead and 48 injured. Trump responded by blasting London mayor Sadiq Khan for telling his constituents that they shouldn't "be alarmed" if they see an "increased police presence" in the city.
When Khan noted that Trump took his remarks out of context, Trump only doubled down on his criticism.
Then in November, Trump infuriated many in Britain when he retweeted several videos from the far-right anti-Muslim group Britain First. When May's spokesperson indirectly rebuked Trump, saying "the British people overwhelmingly reject the prejudiced rhetoric of the far right," Trump hit back at her on Twitter:
Amid these debacles and many other skirmishes on the world stage, the date of Trump's visit to the U.K. kept being pushed back. In February Trump canceled his appearance at the opening of the new U.S. Embassy in London, sparking rumors that he was afraid of the long-planned mass protests. Trump blamed Barack Obama, though the decision to move the embassy was made under George W. Bush.
INCIDENTS AS A CIVILIAN
Before he entered into any sort of "special relationship" with the U.K., Trump managed to insult two generations of royals. He reportedly tried to woo Princess Diana by sending many bouquets to her home after her split from Prince Charles in 1996 (when he was still married to Marla Maples). One of Diana's friends said she told her "What am I going to do? He gives me the creeps."
During an interview with Howard Stern shortly after Diana's death, the host asked Trump if he thought he "could've nailed her" and Trump replied, "I think I could have." Then they joked about how Trump would have made the princess take an HIV test first.
Trump also directed some slut-shaming at Kate Middleton when a paparazzo took long-lens photos of her sunbathing topless at a private resort. Trump tweeted about the incident and ranted on Fox & Friends that it was a "very, very foolish thing she did."
No political leaders were invited to Prince Harry and Meghan Markle's wedding in May, possibly because it would have caused a diplomatic incident if they invited the Obamas, with whom the prince is friendly, but not the Trumps. Markle denounced Trump and his misogyny in a 2016 TV interview before her relationship with Harry was confirmed.
Trump's Itinerary in Britain
• On Thursday afternoon, President Trump and the First Lady will fly from Brussels to the U.K.
• They'll attend a black-tie dinner on Thursday night at Blenheim Palace in Oxfordshire, the family home of Sir Winston Churchill. Around 150 business leaders have been invited to the dinner, which will be hosted by Theresa May, including CEOs of Unilever, Barclays, GlaxoSmithKline, and Goldman Sachs International.
• The Trumps will spend Thursday night in the London home of U.S. ambassador Woody Johnson.
• On Friday morning, Trump will join May to watch a British military exercise.
• The two leaders will then head to Chequers, the prime minister's country residence, for bilateral talks.
• Next the Trumps will travel to Windsor Castle — the site of Harry and Meghan's recent wedding — to have tea with the queen.
• The Trumps will then fly to Scotland and spend the weekend at the president's Turnberry golf resort. There are no events scheduled, and their stay does not count as part of the "working visit."
The BBC has a recap of how this differs from a state visit:
A state visit is a formal visit by a head of state and is normally at the invitation of the Queen, who acts on advice from the government.

The Queen acts as the official host for the duration of the trip, and visitors usually stay at either Buckingham Palace or Windsor Castle.

There is usually a state banquet and a visit to - and speeches at - the Houses of Parliament may be included.




A working visit - like the one Mr Trump is making - may include some of the same activities as a state visit, but there are small differences. For example, on a working visit, the visiting head of state does not address Parliament, nor is their accommodation organised and funded by the UK.
So Trump probably won't get the golden carriage ride he requested.
Protests Against Trump's Visit
Tens of thousands of people are expected to join protests against Trump, which organizers have dubbed a "Carnival of Resistance." Massive demonstrations are expected in London on Thursday and Friday, and in Glasgow on Saturday, with smaller protests in cities including Devon, Dundee, Edinburgh, Belfast, Norwich, Manchester, Leeds, and Liverpool.
Some unique events include a Drag Protest Parade and Trumpets Against Trump, which invites anyone with a trumpet to "play a drone piece on our lowest notes" during the anti-Trump protests. "No practice is needed. The worse the better. BLAST FASCISM," the organizers said on Facebook.
The attraction that's drawn the most attention is the 19-foot blimp of adult-baby Donald Trump. Though London mayor Sadiq Khan needed some convincing, he ultimately approved the blimp to fly over Parliament Square Gardens for two hours during the "Stop Trump" march in central London on Friday. Here's video of a "Trump baby" test run:
Police have not said how many protesters are expected, but they're planning the biggest mobilization of officers since the 2011 London riots. One chief constable said they'd asked for resources on the scale required "if London was burning down." The biggest protest in U.K. history was a demonstration against the Iraq War in February 2002, but George W. Bush was not in the country at the time.
"We need to show the world what millions of people in this country think of the bigotry and the hatred that he represents," Owen Jones, a newspaper columnist and activist who helped organize the demonstrations, told Time.
"We've seen the rise of the far right in Britain and Europe, and the one lesson we should learn from history is that when racists and the far right mobilize, you fight back, you don't let them march and rise to power," he added.