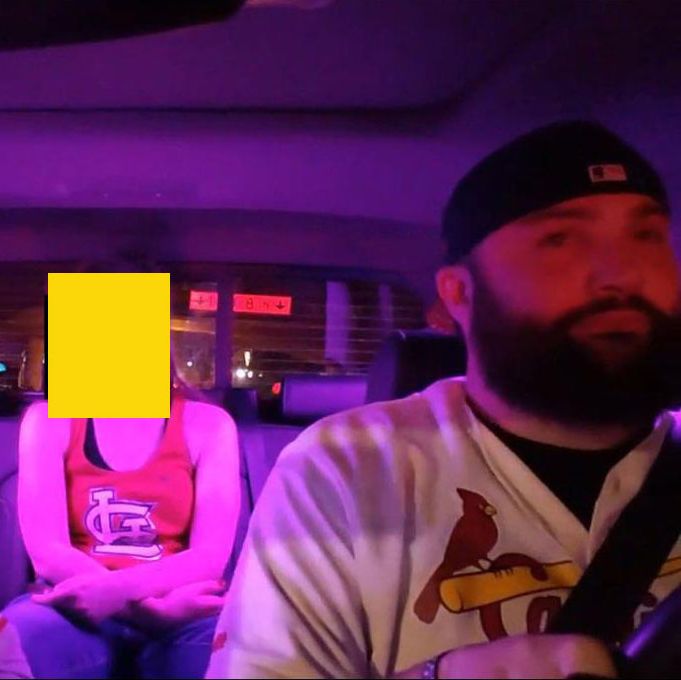 Photo: Twitch via St. Louis Post-Dispatch
In a fun, on-the-nose illustration of our techno-hell, a cab driver has been fired for picking up passengers via Uber and Lyft, and then secretly livestreaming those rides on the website Twitch. The St. Louis Post-Dispatch reported last week that Jason Gargac has streamed more than 700 of these rides since March under the screen name JustSmurf.
Gargac told the Post-Dispatch that "I try to capture the natural interactions between myself and the passengers — what a Lyft and Uber ride actually is." Viewers meanwhile did what internet commenters do, leaving crude jokes and mean comments in the chat. Gargac would not inform passengers that they were being recorded and broadcast when they got into his car. Passengers could be candid, revealing names or where they lived or worked, posing privacy issues.
Missouri is a one-party consent state, meaning that only one person needs to know that they are being recorded in order for it to be legal. Still, there are questions about whether ride-share passengers have a "reasonable expectation of privacy" in their cabs. While Twitch is mostly for video-game streaming, an "IRL" (in real life) section of the site is dedicate to other types of content. Last month, Gargac tweeted about having 4,000 followers and 100 subscribers. Those are not particularly high numbers, but 100 subscribers would net him about $350 a month.
Shortly after the Post-Dispatch's story was published, Lyft, Uber, and Twitch all cut ties with Gargac, disabling his accounts. The taxi apps stressed that they require drivers to follow local and state laws. Before the public blowback, Uber made a lazy attempt at making amends to passengers who complained. The Post-Dispatch says that, "The company gave them a $5 credit, and a promise that they would not be paired with Gargac as a driver." In other words, Uber seemed totally fine with Gargac's behavior until it became a publicity issue.