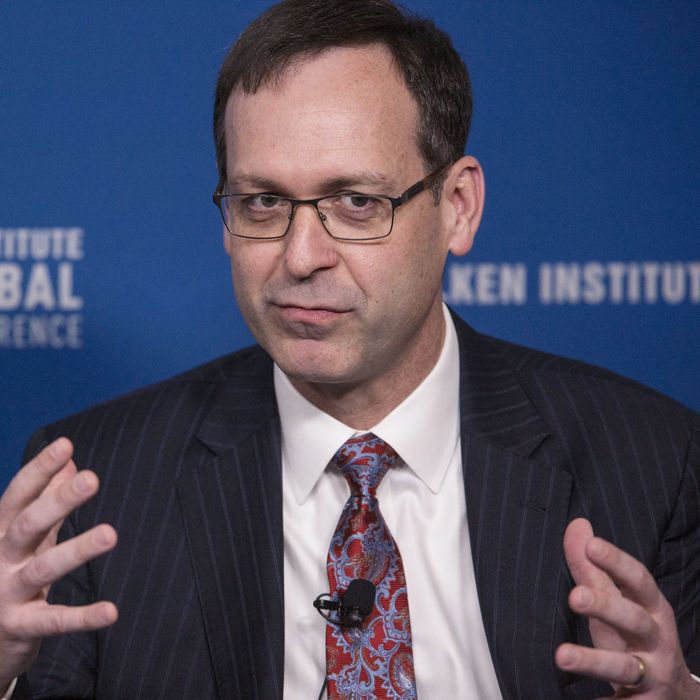 Peter O'Rourke appears to be making the most of his time as acting secretary.
Photo: Dania Maxwell/Bloomberg via Getty Images
The Trump administration is fond of conducting purges, from alleged efforts to rid the State Department of career diplomats deemed insufficiently loyal to the president, to the never-ending quest to rid the White House of leakers. The latest push to make the executive branch great again is said to be happening in the Department of Veterans Affairs, which is without a permanent leader following Trump's failed attempt to replace VA Secretary David Shulkin with his personal doctor, Ronny Jackson.
When Trump fired Shulkin in a tweet, he announced that Robert Wilkie, the Pentagon's undersecretary of Defense for personnel and readiness, would be acting secretary. This was seen as a political maneuver, as according to federal statutes, the job should have gone to Deputy Secretary Thomas Bowman, who had pushed back on Trump's privatization efforts.
After Jackson withdrew his nomination (and Bowman was pushed to retire), Trump nominated Wilkie to fill the spot permanently. Peter O'Rourke, a Trump campaign staff member who served as VA's chief of staff, was made the new acting secretary while Wilkie awaited his Senate confirmation hearing.
Though acting secretaries usually avoid making any drastic changes, the Washington Post reported on Wednesday that a small group of political appointees led by O'Rourke has consolidated power within the VA, and is making aggressive moves to purge the agency of those not loyal to Trump:
The transfers include more than a dozen career civil servants who have been moved from the leadership suite at VA headquarters and reassigned to lower-visibility roles. The employees served agency leaders, some dating back more than two decades, in crucial support roles that help a new secretary.




None said they were given reasons for their reassignments.
It appears Wilkie is not on board with the changes, which threaten to leave the troubled agency bereft of institutional knowledge. An experienced scheduler whom Wilkie told colleagues he wanted to work with was reassigned, and the nominee said he had no part in the staffing changes.
"Any decisions made following Mr. Wilkie's departure as acting [secretary] were made by the current VA leadership and Mr. Wilkie was not aware, nor a part of those decisions," said spokesperson Carla Gleason.
VA officials characterized the reassignments as a sign of Trump's eagerness to make good on his campaign promise to improve care for veterans. Last month he signed a bill that aims to make it easier for veterans to see private doctors, which critics say would starve the VA system.
Curt Cashour, the VA's press secretary, denied that employees are being removed for political reasons. He claimed the VA has been making "groundbreaking progress" under president Trump. "This has understandably shaken up VA's Washington bureaucracy," Cashour continued, "and in many cases, employees who were wedded to the status quo and not on board with this administration's policies have departed VA — some willingly, some against their will as they were about to be fired."
Pressed to explain the changes at a House hearing on Tuesday, O'Rourke said they were "well-planned and designed moves" to improve "efficiency and effectiveness" — though he acknowledged that those reassigned hadn't been performing poorly.
Following reports on the reassignments, 12 Senate Democrats issued a three-page letter late on Wednesday demanding that O'Rourke stop reshuffling VA employees immediately.
They accused O'Rourke of "putting politics above veterans' needs and that is shameful," and said, "Using this short-term appointment to install more political loyalists within the Department while wantonly reassigning, demoting and removing countless nonpartisan career employees who have served multiple prior administrations is reckless."
The Senate Veterans Affairs Committee approved Wilkie's nomination last week, nearly guaranteeing that he'll be confirmed by the full Senate later this summer.