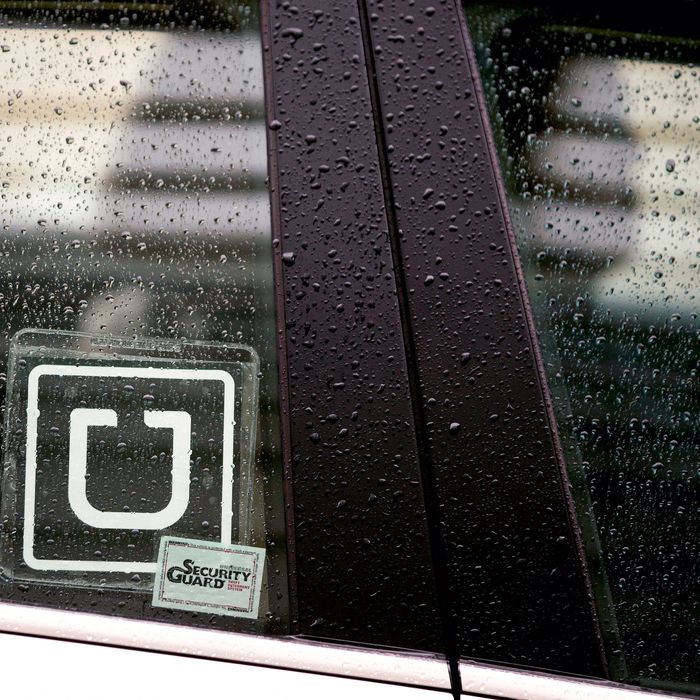 Photo: Andrew Harrer/Bloomberg via Getty Images
It's an early Saturday, and you, recovering from the night before, backtrack through your foggy memory trying to figure out what exactly happened. You were out at a bar, one thing led to another, and you and your buddies, being responsible drinkers, ended up calling an Uber to save your night. Then, mid-reflection, a notification appears on your phone. Uber just charged you $150 for violently defiling your driver's vehicle with vomit.
You swear you kept your liquor down, yet the charge remains.
If you think you may have been wrongly charged for puking in an Uber, you are not alone, and you might be right.
According to a Miami Herald report released this week, multiple passengers are filing lawsuits against Uber for what is being called "vomit fraud." The scam essentially works like this: Several hours or even days after being dropped off, an Uber passenger receives an alert on their app notifying them of an adjustment made to their bill anywhere from $80 to $150. When the passenger attempts to appeal the price hike through the app's help feature, they receive an alert telling them they have been charged a "cleanup fee." The alert also come with a photograph of someone's vomit — allegedly yours. (Though commonly called "vomit fraud" these cleanup fees also apply to large amounts of blood, urine, and yes, other bodily fluids.)
I too have found myself on the receiving end of one of these scams. After a late-night ride home earlier this year, me and a group of four friends were charged the full $150 fee for allegedly vomiting in a car. We did not receive the alert until nearly 24 hours after the ride's completion. While two of my friends spent the 30-plus-minute ride taking a much needed nap, the cardholder and I were awake — the car was puke-free. And trust me, I know vomit when I smell it. After rounds of internal questioning among our friends, multiple hours of anxiety and complaints to Uber, we were successfully refunded. As the Miami Herald report notes, though, some passengers are not as lucky.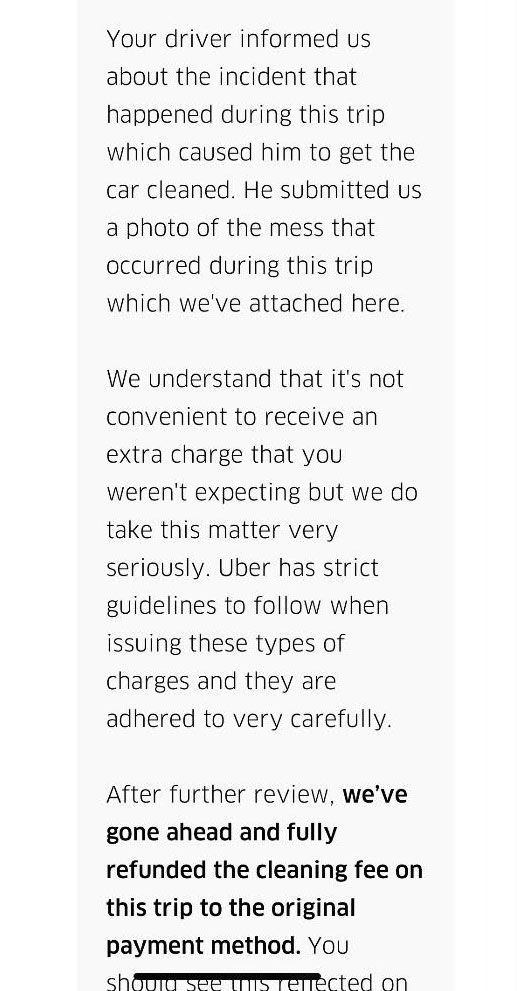 Some have taken to social media to describe their own experiences.
In an email statement to Select All, Uber said that the vast majority of complaints they receive from drivers are legitimate, but denounced the fraudulent claims: "Participating in fraudulent activity of any kind is a clear violation of our Community Guidelines. We are constantly evaluating our processes and technology related to these claims and will take appropriate action whenever fraud may be detected."
Uber details its different level of puke-related cleaning fees on its website.
"Riders are responsible for damage to the interior or exterior of a vehicle caused by incidents such as vomiting or food spills," the website reads. "Cleaning fees are assessed and charged according to the extent of damage. There are 4 levels of severity. From low to high"
Damage that requires vacuuming or simple cleaning (e.g. small messes, food or drink spills) is charged $20.

Vomit or spills on the exterior of a vehicle are charged $40.

Vomit and larger food or beverage spills on fabric or other hard-to-clean surfaces inside a vehicle typically require detailing and are charged $80.

Significant amounts of bodily fluids (e.g. urine, blood, or vomit) on the vehicle's interior or messes that require cleaning between the window and door are charged $150.
Uber says these numbers are based on, "nationwide industry averages," and that all cleaning fees are paid directly to the driver. But here lies the main issue: While I think we can all agree steps should be taken to keep Uber seats vomit-, piss-, and blood-free, by trusting the driver to self-report these claims, people are incentivized to lie.
When asked what measures they take to prevent drivers from engaging in vomit fraud, Uber said they "take appropriate action," which can include removing the driver from the app.
Right or wrong, late-night Uber riders engage with the service during one of their most vulnerable states. In my case, my group did not receive a complaint notice until nearly 24 hours after the fact. While we managed to get our money back by appealing to Uber, it's easy to imagine circumstances where one's drunken recollection may be less than convincing (especially since the majority of time the puke is indeed real.)
Moral of the story: Make sure to check your ride history, and if you really are convinced your body fluids did in fact stay in your body, report the event to Uber.