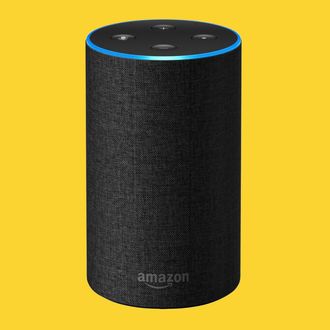 Happy Prime Day, I guess. A made-up holiday where you get to spend money on stuff, but feel good about it being less money than you would have spent on said stuff any other day of the year. To which, if you're considering becoming the proud owner of any number of Amazon's smart speakers … this is your moment. A number of devices are on sale today — including a number we, the staff of Select All, use daily and highly recommend, even when they aren't on deep discount. Here's everything you should know before you click "purchase."
These things usually cost $100. Today they are $70. Save yourself $30 and buy a nice house robot to ask about the weather, use as a personal DJ, and Google stupid things. It's available in five finishes, including oak and walnut "wood," and several fabric options. (We're partial to the charcoal fabric.) "It works extremely well. Space-station-AI well. Robot-butler well. Future-of-tech well," Select All senior editor Max Read wrote about his Echo back in 2016. A recommendation he still stands by today. (I asked.)
The Echo Plus is aptly named in that it's basically the same as the Amazon Echo … plus it works as a smart-home hub. Meaning you can get yourself some smart light bulbs and control them via the Echo Plus without needing to buy a third-party hub. The $100 — that's $50 off — price tag includes free Philips Hue bulbs to get you started.
"Amazon's new Echo Show takes the brand's impressive smart-speaker line a step further by adding a camera and a touchscreen display, giving users the ability to play movies, get real-time news updates, and host video chats — all from one stationary, voice-activated device," Select All intern Paris Martineau wrote of the Echo Show back in 2017. Today, you can get all that for $100 off.
Heads-up: If you buy stuff through our links, New York may earn a commission. That said, we don't recommend anything we wouldn't buy for ourselves.