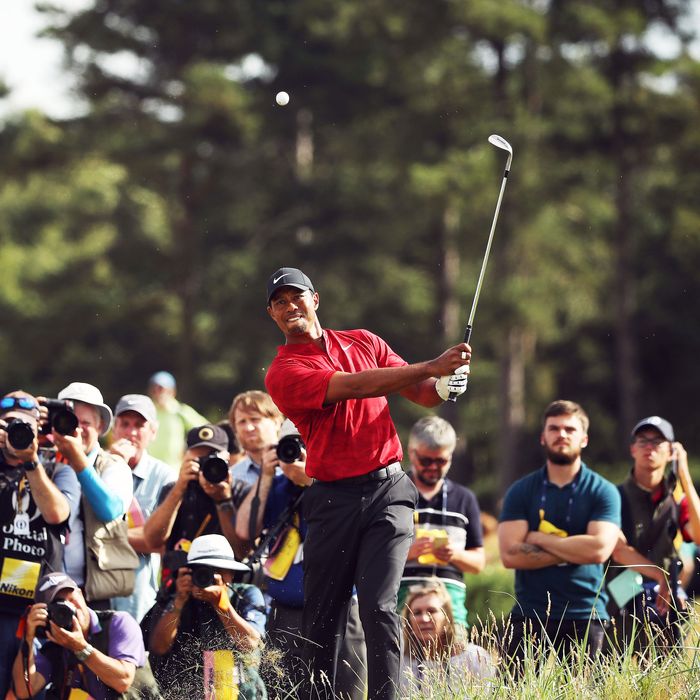 Tiger Woods during the final round of the 147th Open Championship in Carnoustie, Scotland.
Photo: Francois Nel/Getty Images
Last weekend, it is very likely you paid attention, however briefly, to golf for the first time in nearly a decade. The reason, of course, is Tiger Woods. At the Open Championship in Carnoustie, Scotland — don't you dare call it "the British Open" — Woods, once the most powerful marketing force in America, held the lead with seven holes to go in the penultimate major of the year, and you saw the alerts come across social media like a bat signal: Tiger's back. Tiger's back. The day has come.
It had not come. Woods ended up collapsing down the stretch and finishing tied for sixth, which was actually his first top-ten finish since the 2011 Masters, and afterward, his fellow golfers bunched with him on the leaderboard spoke of the experience with the amusement of teenagers watching an old guy on the basketball court: Tiger is basically Uncle Drew to them. Three-time major winner Jordan Spieth, who was 14 when Woods last won a major and 3 when he won his first one, said when he saw Woods's name on the leaderboard, "I was like frustrated at myself. He's like, 'He hasn't been in this position in ten years, and you've been here how many times in the last three years?' He was like throwing it back at me." But for the average golf fan — and for the average sports fan — seeing Tiger Woods atop the leaderboard felt vindicating, proof that his genius had returned, that we hadn't been wasting all those years calling him the greatest of all time for nothing.
It remains difficult to overstate the impact that Tiger Woods had on the American cultural landscape at his peak. When Barack Obama was inaugurated in 2009, Tiger spoke on the National Mall and was treated as if Christ himself had come from Heaven and personally blessed the proceedings. Among all the celebrities on hand, only Tiger received no title or long-winded biography. He was simply, "Ladies and gentlemen, Tiger Woods." He literally needed no introduction.
He was an American export, a global conglomerate to himself. And then, ten months later, with an SUV crash at a Florida resort and the seemingly infinite number of tabloid stories that followed, Tiger Woods's life as that Tiger Woods was essentially over. He, and his sport, haven't been the same since. Once expected to obliterate Jack Nicklaus's record of 18 majors, he is now stuck on "just" 14 — and has been for a decade. The sport of golf, which overleveraged itself in the Cult of Tiger at its peak, has suffered accordingly, with the number of active golfers nationally having dropped more than 35 percent in the last 15 years. As skilled as players like Spieth, Rory McIlroy, and Dustin Johnson are, to the average viewer, they are simply Not Tiger Woods.
So — why can't we quit Tiger? One explanation, of course, is that he seemed, for about a decade, not just a titanic talent but one who would hover over the sport in retirement for generations to come (like Nicklaus, actually) — and nobody wants to see a talent like that exit the stage so unceremoniously. Another part of the story is that, because of his strange, sudden, tabloid decline, golf fans might feel like they were unceremoniously deprived of some peak-Tiger time. And in the age of Tom Brady, 40-year-old MVP, and LeBron James, 15-year-NBA vet casually opening a whole new chapter of his career, fans have come to expect, or believe, or at least hope that, with the help of diet and training and analytics, the greatest athletes might not just beat their competition, but outlast them. This is how every kid thinks about great athletes — like they might rule their sports forever.
But another big part of the story is simple nostalgia, each generation's insistence that the world that they grew up in is better than the current one, the belief that their sports superheroes are better than your sports superheroes. Sports have always been beholden to old men claiming that The Game was better in back in their day; newspapers claimed that baseball was dying literally before World War I. But in recent years, even as data nerds have sort of "retired" nostalgia from the thinking fan's mental landscape, sports nostalgia, like all nostalgia, has become a marketable commodity, and exploded as a result — Gen X proving as big a sucker for it as Baby Boomers were. Fox's BIG3 league, founded by Ice Cube (who turns 50 next year) features retired NBA players, and might have been a joke like Rock and Jock or "Pros vs. Joes" in another era; instead, it has become a surprising hit. YouTube Red's first big smash was a continuation of The Karate Kid, one of the most beloved sports movies of a generation and the source of roughly 34 percent of Bill Simmons's old Page 2 columns at ESPN. Sports-merchandise company Mitchell & Ness has built a whole empire on nostalgia, from those hideous old dinosaur Raptors uniforms to those sheer old Starters jackets from the '80s. It's not possible that anyone actually likes how these look, right? I mean, it has to be nostalgia.
This is of course somewhat inherent in sports; everybody thinks their favorite players as kids were the best there ever were. This is essentially what the ongoing Michael Jordan versus LeBron James as The Best of All Time debate is, just like we debated Barry Bonds versus Willie Mays with our parents and they debated Willie Mays versus Ted Williams with theirs. This is perfectly natural and probably healthy, even if it's not particularly logical; sports have evolved so much that if Babe Ruth were to see a curveball thrown by a middling minor-league pitcher today, he would run away, likely screaming about witchcraft and black magic. The best sports are always happening right now. But it never feels that way emotionally. We need to justify our years of watching Tiger Woods, and Michael Jordan, and Derek Jeter. So we denigrate today's players and elevate our own. Back in our day. Every generation turns into Billy Crystal telling us young kids to sit at his knee and listen to his stories about the Mick.
This is all why it shouldn't be surprising then that Tiger remains the top draw in golf, years past his expiration date. Think of him like an old rock band who remains the top draw on tour; good for him, good for all of us who get to remember back when we were young and beautiful and convinced that Billy Corgan Meant Something, Man, but probably not a good sign for the ultimate survival of rock. Eventually U2 and the Rolling Stones are going to die. (Probably.) You can't find their replacements because there are none. Woods is the rare throwback who is still active in his sport and playing it at its highest level, even if there haven't been any majors; Tiger Woods turns 43 this year but is the 50th ranked golfer in the world. To elevate him now is to elevate ourselves: We still have something left! But in many ways, that we want these stars to reign eternal is a lack of appreciation of how fleeting athletic superiority really is … how short these athlete's "lives" really are. Barry Sanders was an NFL player for only 9 of his 50 years on this planet. Nine years! Nine years are a blink. What's he done the other 41 years? Have you ever even thought to wonder? Does it even matter? We want to hold onto our greatest athletes' primes because, like our own, they are over before we even notice. We want Tiger to have his one last moment because we still feel we have One Last Moment ourselves. Even if we, and he, probably don't.
Will Leitch's Games column runs weekly. Email him at will.leitch@nymag.com.