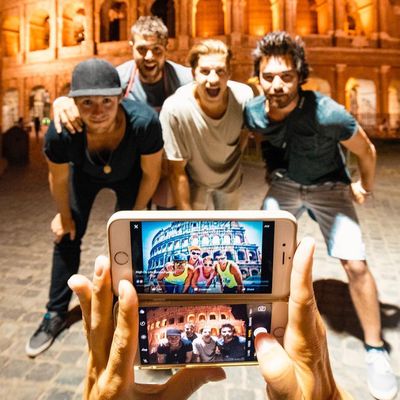 Alexey Lyakh, left, and Ryker Gamble, second from right, died trying to save Megan Scraper.
Photo: Instagram/High On Life
Two Canadian YouTubers well-known for their dangerous stunts died on Tuesday, swept over a waterfall while attempting to save the girlfriend of one. Ryker Gamble and Alexey Lyakh were two of the stars of the YouTube channel High on Life, where they had more than half a million subscribers. On Instagram, their travel exploits had netted them more than a million followers.
The trio was hiking near Squamish, British Columbia, by the top of Shannon Falls. According to the CBC, witnesses saw Megan Scraper, Lyakh's girlfriend, "slip and fall from the rocks at the top of the falls, into the strong current. The two men apparently jumped in the water to try to save her." (A 2014 video features the High on Life crew performing stunts near a waterfall, cautioning users that the team is well-trained and not amateurs.)
In early 2017, Gamble and Lyakh were sentenced to a week in prison for a variety of offenses committed in U.S. national parks, including stepping off the boardwalk at Yosemite and riding a bicycle outside of the roadway in Death Valley. They were ordered to remove the posts from social media.
As of now, none of the High on Life pages has been updated with statements on the deaths, though comments offering condolences continue to roll in.