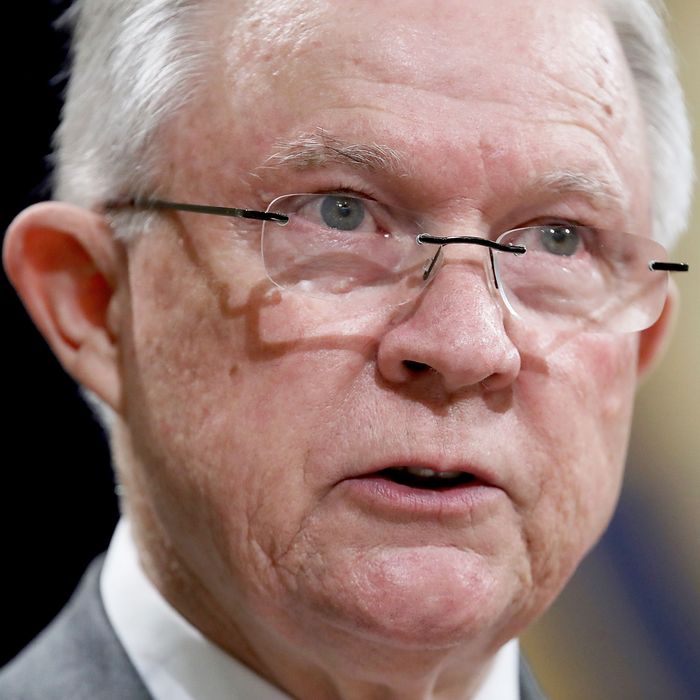 The ACLU is looking to block another part of Trump's immigration agenda.
Photo: Win McNamee/Getty Images
Following a lawsuit that led to the U.S. government being ordered to reunite migrant families separated at the border, the American Civil Liberties Union is tackling another aspect of the Trump administration's immigration policy. On Tuesday the ACLU filed a federal lawsuit against Jeff Sessions and other Trump administration officials over the attorney general's decision to restrict the reasons that migrants can be granted asylum in the U.S.
"We're suing Jeff Sessions for illegally denying asylum protections to immigrants fleeing domestic violence and gang brutality," the ACLU tweeted. "These policies undermine the fundamental human rights of women and violate decades of settled asylum law."
Migrants seeking asylum must show they have "credible fear" of returning to their home country, based on race, religion, nationality, political opinion, or membership in a particular social group. The last category used to include people threatened by domestic or gang violence, but in June Sessions overruled that policy, telling immigration judges, "Generally, claims by aliens pertaining to domestic violence or gang violence perpetrated by non-governmental actors will not qualify for asylum."
Immigration lawyers say the policy change has already had a noticeable impact, with more judges denying asylum seekers' appeals and an increase in migrants failing initial screenings. That was backed up by government statistics released Tuesday, which said asylum officers denied about 13 percent of cases in June, compared with 8 percent in May and an average of 10 percent during the last fiscal year.
After entering the country, asylum seekers are interviewed by a Department of Homeland Security asylum officer who determines whether they have a "credible fear" of returning home, in which case they will get a hearing in immigration court. If they fail, they are fast-tracked for removal.
The suit asks the court to declare the new policy unlawful, and stay the removal of people who have been placed in fast-track deportation proceedings in recent months, arguing they were denied a fair hearing on whether they should be able to stay in the U.S.
"Without an injunction, Plaintiffs and thousands of other immigrants like them desperately seeking safety will be unlawfully deported to places where they fear they will be raped, kidnapped, beaten, and killed," the ACLU said in the suit.
The suit was filed on behalf of 12 migrants from Central America who failed their "credible fear" interviews. Two children and their mothers have already been deported, and the others are being detained in Texas and New York.
One of the plaintiffs, identified by the pseudonym "Grace," said she fled Guatemala after her partner beat her and children, and sexually assaulted her and her daughter. The lawsuit says she contacted local police, but they did nothing. Grace is now being detained in Texas, and is facing deportation.
"By applying these broad and unjustified changes to the credible fear process, the government is attempting to subvert decades of settled asylum law and setting up asylum seekers like Grace to fail their interviews," the ACLU said in a statement.
"For example, gender-based persecution has been recognized as a basis for asylum for decades. However, Sessions has declared that the plight of domestic and gang violence survivors is 'merely personal.'"