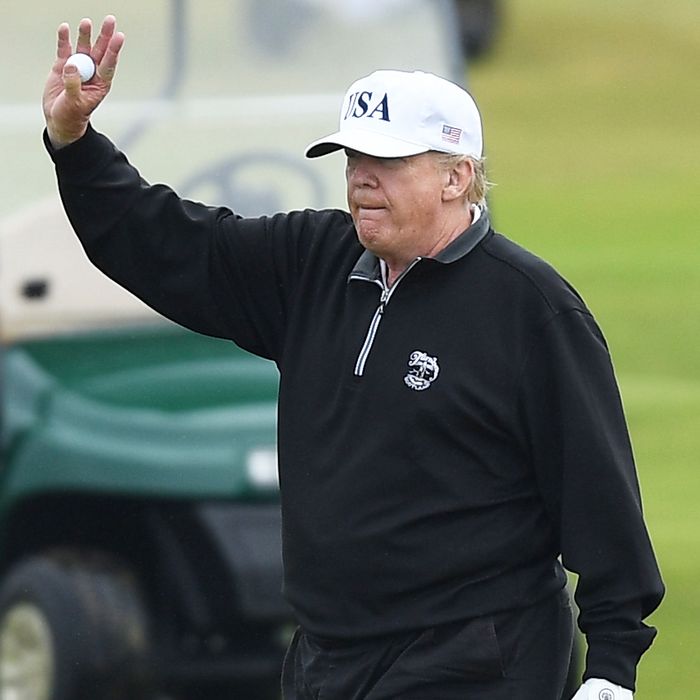 A moment of calm.
Photo: Leon Neal/Getty Images
President Trump did not have a good Tuesday. First, his former lawyer and longtime "fixer" pleaded guilty to campaign-finance violations. Within minutes, his former campaign chairman was convicted on eight charges in a federal fraud trial.
There are some sticky legal issues created by Tuesday's developments and Trump's enemies now have new ammo, but White House aides, Politico reports, are worried things could still get worse. Their biggest worry seems to be their boss's inability to shut up.
"The main strategy is making sure to minimize the amount of self-harm the president is doing to himself just because it seems like right now his tweets and his actions aren't exactly things that would help him in a court case or investigations into his behavior," said one former White House official.
The strategy to "minimize" the damage is to keep the man busy. And not with his job. In the past, long days on the golf course and political rallies in deep-red America have proven successful at distracting Trump from the Russia investigation. Nothing like hitting a few drives and whipping up racial resentment to put the guy in "a better headspace," as a former White House official told Politico.
"He's almost like a volcano, which sometimes blows off steam without taking out the village below," this person added. "The busier he is, the less likely he's going to get in these moods and watch TV and get more and more angry."
As with many children, too much screen time makes the president moody.