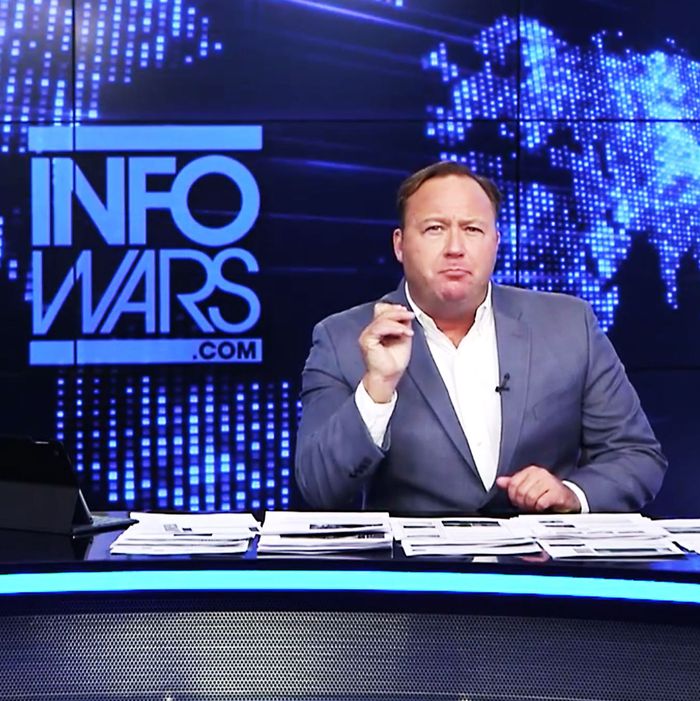 If your plans for the evening involved going home, opening an incognito window, and watching some Alex Jones parody porn … you're going to need some new plans. YouPorn announced on Monday that it had deleted a half-dozen such videos from the platform and would not be allowing any new ones to be added. "Following news that YouTube, Facebook, and Spotify have banned Alex Jones from their platforms, team YouPorn is joining in solidarity and announces we are banning his content as well," Charlie Hughes, YouPorn's vice-president, said in a statement.
Email marketing platform MailChimp also announced that it is banning Jones. "MailChimp doesn't generally comment on individual users or accounts, but we'll make an exception today," the company said in a statement to Media Matters. "MailChimp notified Infowars that their accounts have been terminated for violating our Terms of Service, which make it clear that we don't allow people to use our platform to disseminate hateful content." Which is good because how else would we have ever listened to those delightful podcast ads — "mail keeeemp" — knowing the platform still hosted a conspiracy provocateur. Pinterest also parted ways with Jones and his show, Infowars, after inquiry from Mashable.
While these smaller platforms all jump on the Jones-banning bandwagon — we're not going to concern ourselves with trying to discern between decisions made for ethical reasons and decisions made for some free, good press — Apple and Google still have not opted to remove the Infowars app from their stores. (Apple did pull five of six Infowars podcasts earlier this week.) The app has seen a significant jump in downloads, from spot 47 in the iOS store rankings for news apps to spot 4 in just two days, the Verge reports. The Android version jumped 20 spots and is holding at No. 11 on the Google news-app chart.