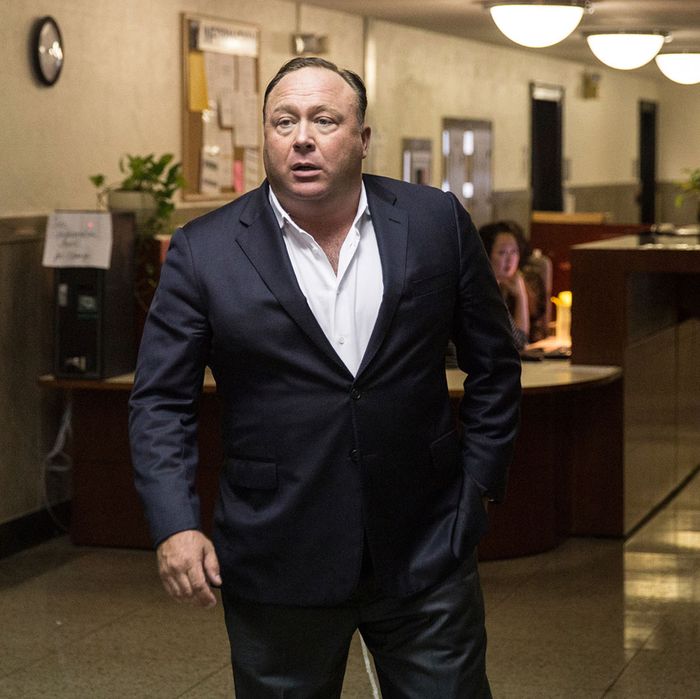 Alex Jones arrives in court last year. Now he's back.
Photo: Tamir Kalifa/AP
It's not enough that Alex Jones has accused the parents of Noah Pozner, a 6-year-old killed at Sandy Hook Elementary School in 2012, of being actors. It's not enough that he's exposed them to death threats and harassment that has led them to move homes seven times. And it's not enough that he's made tons of money in the process.
Now the founder of Infowars is asking a Texas judge to throw out a defamation suit filed by Pozner's parents and trying to get the family to pay more than $100,000 for his court costs.
Jones was an early doubter of the official story that came out of Newtown, Connecticut, in December of 2012. Shortly after the shooting, in which 20 children and six adults were killed, he called it "staged." By 2014, he'd fleshed out the theory a bit more. Jones claimed "no one died" at Sandy Hook and called the shooting "a giant hoax." The following year, he said, "Sandy Hook is a synthetic, completely fake, with actors, in my view, manufactured."
In 2016, Noah Pozner's father Lenny told New York that the story Jones is peddling threatens to erase his son's memory. "Conspiracy theorists erase the human aspect of history," he said. "My child — who lived, who was a real person — is basically going to be erased."
In 2016 the danger of Jones's words became more tangible when one of his acolytes was arrested for threatening the lives of the Pozner parents. Lucy Richards of Florida had become so convinced that the shooting was a "false flag" that she sent threats to Lenny Pozner that said "you gonna die, death is coming to you real soon" and "LOOK BEHIND YOU IT IS DEATH." According to court documents, as a condition of her parole, Richards was ordered to never again watch, read, or listen to content from Infowars.