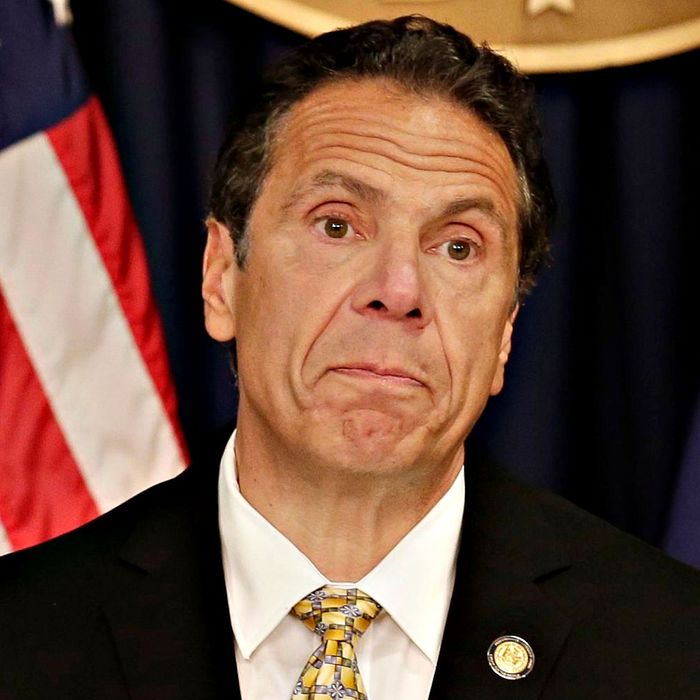 Not good at slogans.
Photo: Seth Wenig/AP/REX/Shutterstock
If Andrew Cuomo is planning to run for president in 2020, something that Donald Trump dared him to do on Monday, we'll be hearing a lot about a dumb riff he went on Wednesday.
"We're not going to make America great again — it was never that great," the New York governor said at a signing ceremony in Manhattan. He went on to clarify that America will achieve greatness when women are no longer discriminated against.
"We have not reached greatness. We will reach greatness when every American is fully engaged. We will reach greatness when discrimination and stereotyping against women — 51 percent of our population — is gone and every woman's full potential is realized and unleashed."
The damage, however, was done. Republican gubernatorial nominee in New York, Dutchess County executive Marcus Molinaro, quickly released a statement that began, "America, with its imperfections, has always been great." Cuomo, the statement concluded, "should be ashamed of himself."
And he should. At the very least, he should be embarrassed for saying something that had to be recanted less than three hours later. By 4:11 p.m. Cuomo's his press secretary put out a statement that said, "The Governor believes America is great and that her full greatness will be fully realized when every man, woman, and child has full equality."