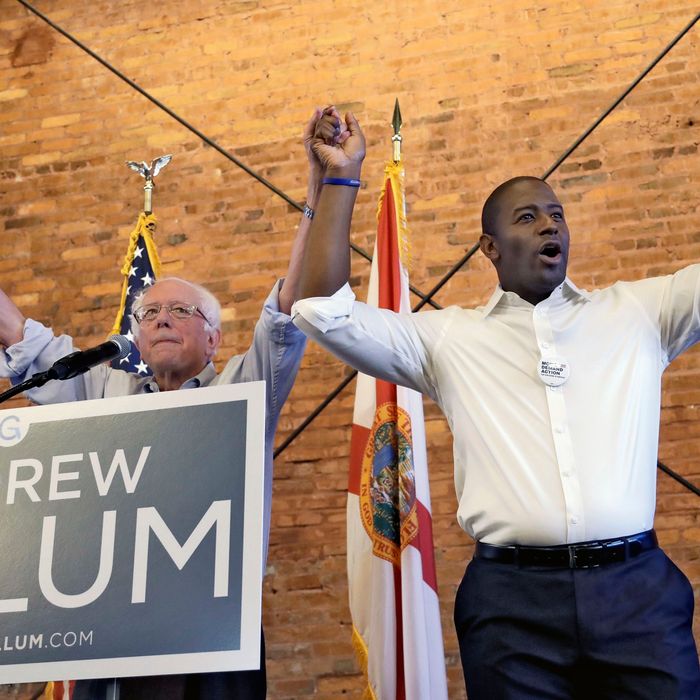 Tallahassee Mayor Andrew Gillum with supporter Bernie Sanders, part of a coalition of funders and activists who lifted him to a surprise win in Florida.
Photo: Chris O'Meara/AP/REX/Shutterstock/Chris O'Meara/AP/REX/Shutterstock
Two of the big Democratic narratives for the 2018 primaries collided in Florida today, with former congresswoman Gwen Graham battling Tallahassee mayor and Bernie Sanders–endorsed progressive Andrew Gillum for a very important gubernatorial nomination. In this contest, at least, it was not the Year of the Democratic Woman but rather the insurgent-progressive uprising that won the battle of the memes.
The heavily favored Graham, a party centrist and daughter of former governor and senator Bob Graham, lost to Gillum, who is bidding to become the first African-American governor of his state. The underdog piled up big margins in most of Florida's urban areas, and will now face Congressman Ron DeSantis, the Trump-endorsed GOP nominee, in what will be a general election of stark ideological contrasts.
Early in the campaign, it looked like Graham and former Miami Beach mayor Philip Levine were the top contenders for the gubernatorial nomination. Indeed, as late as mid-August, a SurveyUSA poll showed Graham and Levine tied for the lead, with self-funding Palm Beach billionaire Jeff Greene running third and Gillum far back. But aside from representing a merger of millennial and minority supporters of Bernie Sanders and Hillary Clinton (whom Gillum endorsed), the 39-year-old mayor also obtained massive financial support from progressive billionaires George Soros (who contributed $1.25 million to Gillum's political committee) and Tom Steyer (who chipped in $800,000). He also benefited from a well-financed Get Out the Vote operation.
That was enough to put Gillum on top, even in a state where older and more centrist voters usually dominate primaries and Graham benefited from high name ID and endorsements from most leading Florida Democrats and celebrities (plus EMILY's List, and other national figures like Senator Kirsten Gillibrand).
Gillum's general election opponent DeSantis easily defeated early GOP front-runner Adam Putnam, largely by campaigning on a dual message: I'm for Trump, and Trump is for me. It's unclear how the GOP intends to run against this unexpected and unorthodox adversary between now and November, but you have to figure it could get ugly. One possible beneficiary of a strong voter mobilization for Gillum, especially among African-Americans, could be Democratic Senator Bill Nelson, who's seeking a fourth term, and not exactly exciting his party as he battles Governor Rick Scott and his checkbook. The stakes will be high, as Democrats try to bust up a GOP trifecta governing Florida before the next round of redistricting, and both parties gear up for another epic Sunshine State presidential contest in 2020.