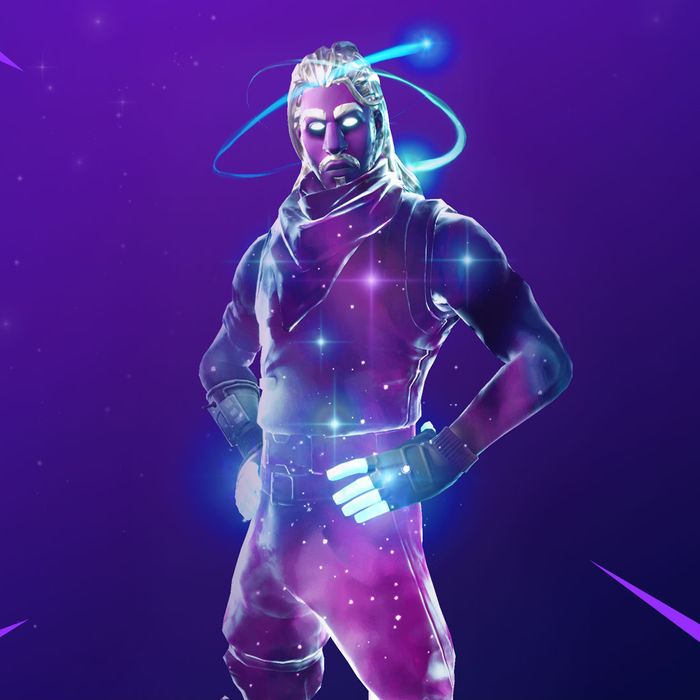 A new
Fornite
skin available only to Galaxy Note 9 and Tab S4 users.
Photo: Samsung
There's a little video game called Fortnite that's pretty popular right now. Maybe you've heard of it? Maybe you're an Android owner who has been anxiously waiting for the game to be available on your device. (Thus far, the game has been limited to PS4, Xbox One, iOS, and Nintendo Switch.) Well, good news if you fall into the latter category and also happen to own a Samsung. At Unpacked, the company's annual product-launch event, on Thursday, Samsung announced that a beta version of Fortnite for Android is now available to Galaxy users.
Specifically, you'll need to own one of these devices: Note 9 — Samsung's newest phone, which was also announced on Thursday — S9 and S9 Plus; Note 8, S8, and S8 Plus; S7 and S7 Edge. It's also available on two tablet models, the Tab S4 and Tab S3. The game is available for download in the Samsung Game Launcher.
If you've actually be anxiously awaiting this news, you probably already knew about it, as reports of Samsung's partnership with Fortnite leaked earlier this week. The rest of you will have to wait until Epic Games releases the game to all Android users, which the company said you can expect at some non-specified point this summer. Until then, here are several thousand words on how Fortnite took over the gaming world. That should keep you busy until then.