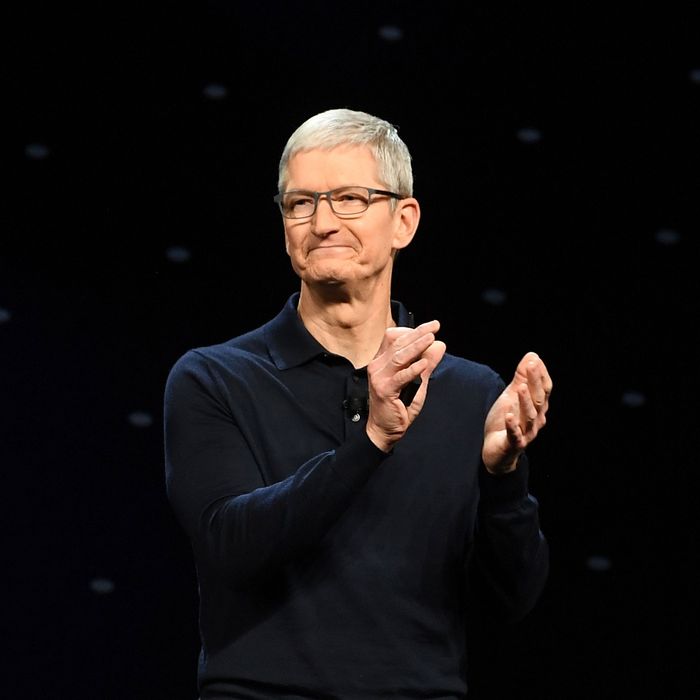 The big boy himself.
Photo: David Paul Morris/Bloomberg via Getty Images
Wall Street types are celebrating Apple Computer today, which crossed the threshold and has become the first company worth [Dr. Evil voice] one trillion dollars. As of this afternoon, Apple shares were priced at more than $207.05 each. Multiply that by the number of shares, 4,829,926,000, and you get more than [Dr. Evil voice] one trillion dollars.
How did Apple do it? Hard work, determination, extraordinary ingenuity, a clarity of vision, and working really, really hard to not pay any taxes. The iPhone, the Macintosh, the Apple Watch, AirPods, taking 30 percent of app-developer revenue, using Ireland as a tax haven, having their products assembled overseas by underpaid people overworked to the point of suicide in some cases. Apple has truly innovated in all aspects of business, and now it will be further etched in the history books as the first company worth one trillion dollars.
Kudos to Tim Cook, Craig Federighi's tall hair, the rest of the gang, and of course, to Steve Jobs, who is partying in heaven. You guys earned it — treat yourselves to the expensive bubbly tonight.