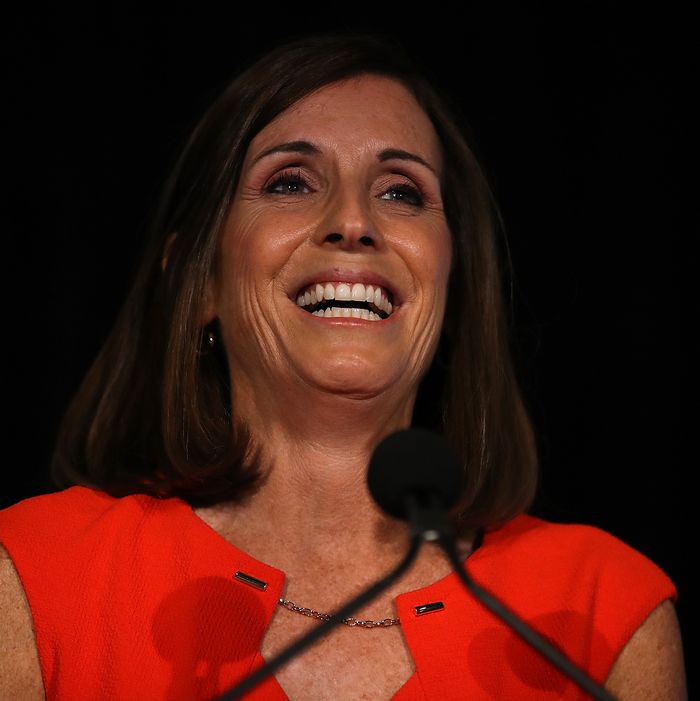 Representative Martha McSally speaks during her primary night gathering on August 28, 2018 in Tempe, Arizona.
Photo: Justin Sullivan/Getty Images
Arizona Democrats are likely facing a tougher road in their effort to flip a Senate seat after Representative Martha McSally, the GOP Establishment favorite, won the Republican Senate primary on Tuesday. But there is a silver lining for Democrats: The race also put an end to Joe Arpaio's effort to return to elected office — for now, at least.
As in many GOP races across the country, candidates in the Republican primary competed to prove their loyalty to President Trump. While McSally, a two-term congresswoman and former combat fighter pilot, had the strongest resume, she failed in this regard. She moved to the right — backing away from a bill to protect Dreamers, embracing the border wall, and labeling outlets "fake news" — but still hasn't said if she voted for Trump in 2016.
Luckily for her, the two more Trumpian opponents split the anti-Establishment vote. Ward, a former state senator, built up her national profile by relentlessly attacking John McCain, even claiming that the late senator announced he was ending his cancer treatment to derail coverage of her bus tour. Arpaio, the former Maricopa County sheriff, was only able to run because Trump pardoned him after he was convicted of violating a federal court order to stop racially profiling Latinos.
With 59 percent of precincts reporting, McSally had 52 percent of the vote, Ward had 28 percent, and Arpaio had 19 percent.
Now McSally will face Democrat Kyrsten Sinema, a fellow U.S. representative who easily won her primary, in the race to fill the seat being vacated by Senator Jeff Flake. Sinema leads McSally in the RealClearPolitics average of polls by five points, but the race is considered a toss-up. Their showdown will be one of the key races in the midterms as Democrats attempt to win an Arizona senate seat for the first time since 1988.
With the difficult primary finally behind her, McSally turned her attention to Sinema at her election-night party, lobbing Trump-style attacks.
"Hollywood Sinema, I like to say that — Sinema with a 'C,'" she said. "She's undergone an extreme makeover, fabricating a centrist image to fulfill her ambition. She's a fake production, running on a phony script in order to fool the voters."