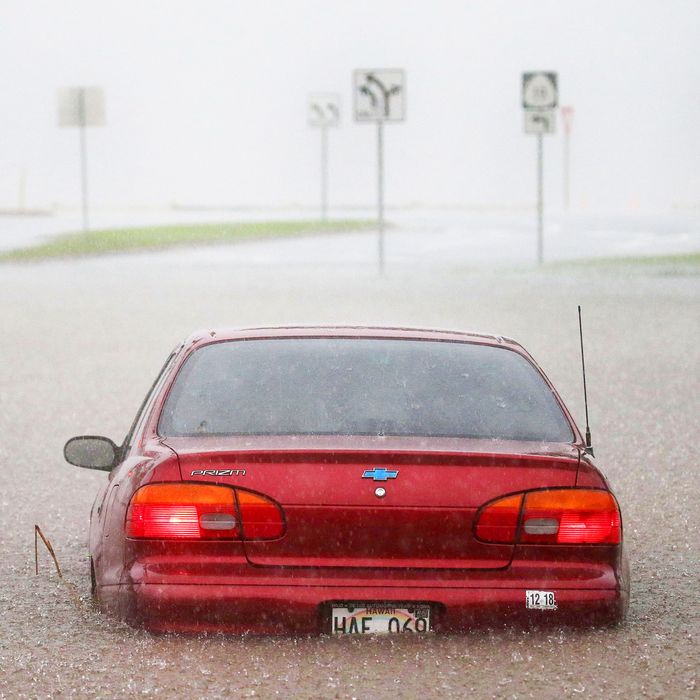 Flooding on the Big Island began with the storm still hundreds of miles away.
Photo: Mario Tama/Getty Images
Heavy rains are pounding Hawaii today, causing widespread flooding on the Big Island, as residents prepare for the arrival of Hurricane Lane, a Category 4 storm that's stronger than any Hawaii has seen in decades.
As of 8 a.m. local time, Lane was still 290 miles south of Honolulu, moving at a glacial 7 mph, but producing 130 mph winds. That storm's slow pace is resulting in flash flooding on the Big Island, where more than a foot of rain has already fallen and as much as 30 inches could be dumped by the time the storm passes.
The eye of the storm is expect to approach the chain of islands Thursday night and slowly move northwest into Friday. The National Weather Service has warned residents that even if the storm deviates off of its expected path, "life threatening impacts are likely over many areas as this strong hurricane makes its closest approach."
Hawaii governor David Ige, who signed an emergency proclamation Tuesday, echoed the sentiment. "We don't know where this storm will hit," he said. "Everyone should be prepared."
Hawaii's inexperience with storms of Lane's caliber will make that preparation more difficult. The state's Emergency Management Agency head, Tom Travis, said at a news conference this week that the state does "not have enough shelters for everyone." And not all of the shelters that it does have are fit to protect people. Hawaii News Now reported this week, that some shelters can't even withstand a Category 1 storm.
The last storm to inflict serious damage on Hawaii was 1992's Hurricane Iniki. The Category 4 storm caused more than $3 billion in damage and killed six people, with most of the damage done to the island Kauaʻi.