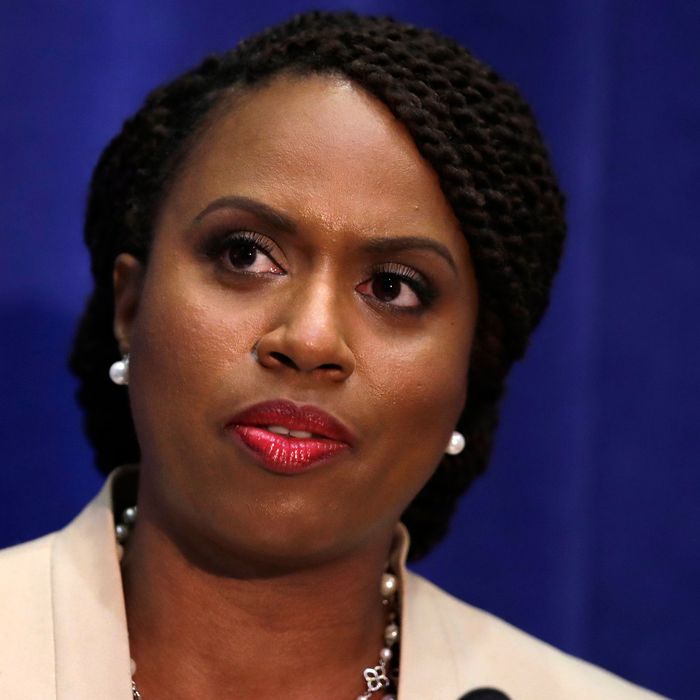 Not just another Ocasio-Cortez.
Photo: Charles Krupa/AP
In the days and weeks after Alexandria Ocasio-Cortez's shock Democratic primary victory over New York congressman Joe Crowley in June, pundits and assignment editors searching for The Next Big Thing — the next young, charismatic, progressive woman who could topple an older male veteran of Washington — zeroed in on Boston. It took almost no time for Ayanna Pressley to be proclaimed, over and over, "the next Ocasio-Cortez." The shoe almost fits.
Almost.
From afar, the parallels are obvious: Pressley, an energetic, progressive African-American city councilor who's risen to fame among party activists for her impassioned speeches and her willingness to jump into an uphill race no one once thought she could win, is taking on ten-term congressman Mike Capuano in a district that's so unassailably blue that the primary winner is essentially assured of a victory come November. (Capuano won the district, which was once represented by John F. Kennedy, by 72 points in 2016.) Shortly after Ocasio-Cortez's victory, the two women started expressing support for each other, and now the Queens congresswoman-to-be is a frequent topic of discussion around Pressley. At a meet-and-greet with about a dozen Harvard Medical School biomedical students on Thursday, Pressley's introducer invoked the New Yorker almost immediately. Pressley has leaned into a particularly politically potent divide on policy between her and Capuano — she wants to abolish ICE, he wants to reform it — and her argument against him is, in large part, that it's time for generational change. "I am primarying a 20-year Democratic incumbent who has not only been serving for a generation, has not had a challenge in a generation," she told the students gathered around her in a comfy common room. "He earned 23 percent of the vote 20 years ago, and has not gotten challenged for 20 years."
Yet raise the parallels to New York in front of Capuano, and you'll get a withering look. "I've been in five different places today, no one asks that question, they don't even know what happened," he said later on Thursday, tie slightly undone, on the sidelines of a packed campaign event in Somerville with a few dozen members of the local carpenters union. "I don't know how you run a campaign in New York City, I know how you run a campaign here." It's not just that Pressley and Capuano actually agree on almost every major issue. Capuano is also far better prepared than Crowley, who largely wrote off his challenger until the last second. Whereas New Yorkers foresaw no trouble for Crowley and thus didn't mobilize for him, the tight race in Massachusetts is no surprise to local power-brokers who know Pressley well. But Capuano — who riled up the carpenters in the Holiday Inn ballroom with an impassioned speech that covered the importance of strong organized labor, his frustration with Trump, and his hopes for an infrastructure bill, all without mentioning Pressley once — has the backing of much of the area's political elite, including a number of major unions, Boston mayor Marty Walsh, and former governor Deval Patrick. In recent weeks Pressley has picked up the support not only of Ocasio-Cortez, but of Massachusetts' attorney general Maura Healey and the national Indivisible group. Senators Elizabeth Warren and Ed Markey and Congressman Seth Moulton opted early on to stay neutral — a reflection of Pressley's local clout.
Now in its final stretch, the twist-filled contest between Pressley and Capuano keeps testing the limits of the conventional wisdom about the shape of today's Democratic Party. The strength of Capuano has shown that the left-wing fury washing over 2018, and in particular female and young voters, is not always directed squarely at incumbents. It's shown that Democrats' anti-Donald Trump fervor hasn't yet fully translated into a re-engagement of some minority voters who the party hopes it can activate after turning them away in recent years. It's revealed that primary voters may sometimes value experience as much as they appreciate a willingness to brawl. And it's become the starkest reminder yet that Ocasio-Cortez's earthquake-like June win doesn't always align so seamlessly with some of the campaigns aiming to follow in its footsteps — and that the differences can sometimes work to others' advantage.
Capuano is the favorite, but in recent weeks much of his campaign has been focused on reminding constituents of his own progressive history. He's confident that drilling down on his record of results, and left-leaning politics, is enough to mobilize voters. It's not just the national party that's moved left, after all; the district has, too. Recent polling shows most voters there, eager to see Trump impeached, don't think Democrats are doing enough to stand up to him. The same survey revealed a majority of the district's voters also "strongly support" replacing the national health care system with a single-payer plan. Shortly after Crowley's loss, Capuano circulated a memo in Washington focused on his differences with Crowley, and the literature his campaign laid out for the carpenters to distribute on Thursday proclaimed prominently, "A Progressive Champion." Indeed, he's been a prominent lefty for years, backing a Medicare for All plan early and even writing the first sanctuary city ordinance in Somerville back when he was a city councilor. At the same time, Pressley, 44, is hardly the kind of Bernie Sanders–style democratic socialist crusader as the 28-year-old Ocasio-Cortez — she was a campaign surrogate for Hillary Clinton starting early in the 2016 contest. She's no political neophyte, either. Pressley has served on Boston's city council since 2009, when she was the first black woman elected to the body, and she previously worked for both former congressman Joe Kennedy and Senator John Kerry. Indeed, she's been a superstar-to-be in Boston politics for years, with a new measure of national recognition in recent years after her well-received acceptance speech for EMILY's List rising star award in 2015.
As such, both candidates are known quantities. That's helped Pressley gain credibility, but Capuano's lead appears steady, suggesting that in this case youthful insurgency may not be quite enough to overcome progressive incumbency. MassInc/WBUR polling showed him 12 points ahead in February, and 13 points up earlier this month.
The final weeks of the contest will test whether Pressley can mobilize minority voters who've traditionally stayed home to vote in this hyperenergized environment, much as the national party is eager to convince those base Democrats who sat out 2016 to turn out for midterms. While Capuano, 66, leads Pressley by wide margins among white and older voters, she does much better in the district — which she calls the country's most progressive and most unequal — among younger voters and voters of color. The district is the only one in Massachusetts that is majority-minority, yet the electorate tends to be primarily white.
"A lot depends on who turns out to vote. In the polling we've seen elsewhere in the country, there have been surges among young people and people of color. If that happens, it would be good for Ayanna Pressley, but the people who traditionally come out in primaries are good for Mike Capuano," explained MassINC pollster Steve Koczela.
To win, Pressley needs to rewrite the electoral math in a primary where she faces strange timing, and therefore unpredictable turnout: the vote comes right after Labor Day, in the first week of school, with no early voting process. As a result, both campaigns are relying heavily on organizing, with Pressley in particular now aiming at low-propensity voters, including many African Americans in the district who've stayed away from previous elections. But even this task is less straightforward than it might seem here. Pressley often says her experience as a black woman whose father was incarcerated gives her unique insight into the problems of the district, and she bristles at commentators who say she and Capuano are similar just because of their similar policy preferences. ("How dare people fix their mouths continually to say, 'Save for her age, race, and gender, they are the same.' What a moronic statement," she said Thursday.) Yet the Congressional Black Caucus' PAC backed Capuano, who is white, in May, and civil rights hero John Lewis traveled to the district to campaign for him soon after.
As the race grows increasingly complex, the conversation continually floats back to the question of the role of a Democrat in the Age of Trump. Central to Capuano's pitch is the reality that he has seniority and experience on Capitol Hill, which lets him bring money, projects, and opportunities home to his district: "It does take a while to learn how to get things done in Congress," he said at the last debate between the two candidates. "I've been there for a while, and my record speaks for itself."
The first question Pressley faced from the students on Thursday came from a supporter in need of advice on how to win over a friend who's supporting Capuano because she thinks his experience matters. "I just remind us that the Democrats were in the majority, and we've had members that have seniority. For the Seventh, what I'm focused on is addressing the systemic inequality, transit equity, environmental justice, safety in our community, access to safe and healthy food, housing that is affordable. If your seniority was not leveraged to address that, to me it doesn't matter," Pressley said. Before long, she turned to the topic of Trump: "The hate coming out of that White House won't be defeated by a vote, so to say that you vote the right way, that you're a reliable vote, isn't good enough. We have to demand and expect more than that. When you take a vote, that's where the work begins, it's not where it ends." The flyers her team handed out to voters Thursday blared, "CHANGE CAN'T WAIT."
The homestretch question, then, is whether the party is as attuned to the newly emboldened grassroots as it purports to be, or whether the activist wing will remain a wing rather than Democrats' new heart.
"If you happen to live in a district that is Democratic and liberal as the Seventh District of Massachusetts — and I think this is true in other places — [you're asking], 'What role does the congressperson from that district play in Washington?' And I think the case that Ayanna makes, [which] I hope is part of a broader trend, is, in a district like this, voting right is a good place to start, but it's not enough," said John Walsh, a former Democratic Party chairman in the state who remains an influential operative there. He's backing Pressley.
"The people of this district, and count me in this, really like Mike Capuano," Walsh said. But "in the room where the decisions are being made, is the congressperson from this district pushing the party to the left?"