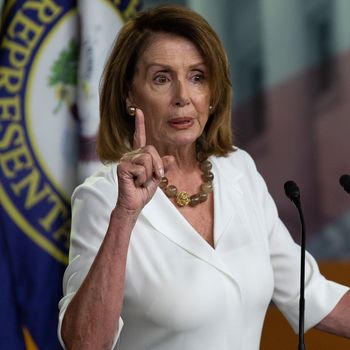 Former (and future?) House Speaker Nancy Pelosi.
Photo: Alex Edelman/Getty Images
When Republican congressional candidates want to attack their Democratic opponents, there's no more reliable arrow in their quiver than invoking Nancy Pelosi, the presumed Speaker of the House should Democrats retake the lower chamber in November.
The California congresswoman has served as a go-to GOP bogeyman for more than decade now, and though her approval ratings are still low, she's no longer the pariah Republicans wish she was. According to a new CNN poll, which surveyed 921 registered voters, the potential for Pelosi to retake the gavel will be an "extremely or very important" issue for just 34 percent of voters. Nine other issues, including health care, the economy, and immigration, rank more prominently in the the minds of voters.
The waning animosity for Pelosi could be because voters have heard about how supposedly evil she is since she became Speaker in 2007. Or it could be a reflection of midterm elections being much more about the president than opposition party leaders.
None of this means Republicans will stop going after Pelosi, who may still serve as a motivating force for conservatives. But it suggests that ads like this one from Kentucky representative Andy Barr, who's fending off a challenge from former Marine combat pilot Amy McGrath, won't move moderates much.
Indeed, a deeper look at the data shows that independents "really don't care about Pelosi," CNN's Harry Enten writes. Only 23 percent say Pelosi will be an extremely or very important factor in whom they vote for.
It may be time for the GOP to find a new bogeyman and President Trump looks to have a suggestion.