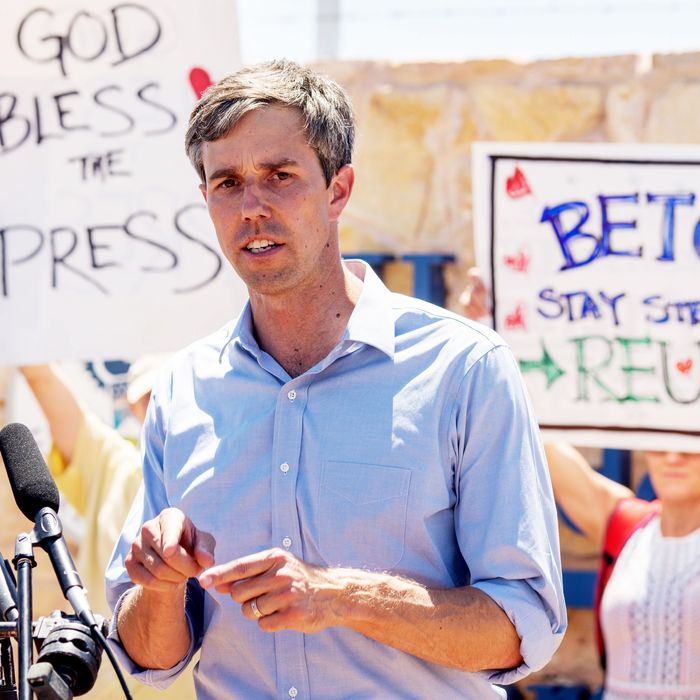 A test of O'Rourke's reputation for candor.
Photo: Paul Ratje/AFP/Getty Images
During his high-profile run for Senate against Ted Cruz, Democrat Beto O'Rourke has not shied away from discussing a troubling element of his past: an arrest for drunk driving in September 1998, the day after he turned 26.
But a new story in the Houston Chronicle claims that there's an important part of the story that the Texas Congressman hasn't addressed. According to records acquired by the paper, O'Rourke was not only nabbed for driving under the influence; he caused what could have been a catastrophic accident, then tried to flee the scene. Neither detail had previously been made available to the public. The Chronicle reports:
"State and local police reports obtained by the Chronicle and Express-News show that O'Rourke was driving drunk at what a witness called "a high rate of speed" in a 75 mph zone on Interstate 10 about a mile from the New Mexico border. He lost control and hit a truck, sending his car careening across the center median into oncoming lanes. The witness, who stopped at the scene, later told police that O'Rourke had tried to drive away from the scene."
The 1995 records, obtained from the Texas Department of Public Safety, are based in large part on the testimony of a witness who reported seeing O'Rourke's vehicle speed by him at 3 a.m. on September 27, 1998. After the accident, the same witness helped prevent O'Rourke from leaving the aftermath of the accident. There were no injuries at the scene; criminal charges were dismissed.
As the Chronicle notes, O'Rourke once told the El-Paso Times that he had been driving an intoxicated friend home, but no friend was mentioned in the police report.
In a statement issued on Thursday, O'Rourke repeated what he has said before: that he regrets the incident.
"I drove drunk and was arrested for a DWI in 1998," O'Rourke said. "As I've publicly discussed over the last 20 years, I made a serious mistake for which there is no excuse." The "serious mistake" wording was identical to the formulation he used in a Chronicle op-ed he wrote earlier this week. The piece addressed his past mistakes, which also include an arrest for jumping a fence in 1995, through the lens of criminal-justice reform.
Texas Republicans have already slammed O'Rourke for the drunk-driving incident, most recently in a tweet earlier this week, which took him to task for skipping a debate with Cruz. (In the same thread, the GOP also went after O'Rourke for having a social life in the early 1990s, a tactic that backfired.)
But it remains to be seen how potent an attack line the new revelation could be for Cruz's campaign.
It's true that drunk-driving offenses are nothing new for Texas voters — former governor George W. Bush once pleaded to driving under the influence, an incident that came out in the press just before he won the presidency in 2000, and did not seem to hurt his standing in the eyes of Texans. But O'Rourke came closer to causing death and destruction than Bush. Rourke has also positioned himself as a forthright chronicler of his own imperfect past, and the fact that he left out a key part of it may hurt his reputation for candor.
So far, the Cruz campaign has not commented on the Chronicle report.
The charismatic O'Rourke has embraced a strategy of staying true to his liberal bona fides and activating a wide swath of previously apathetic voters, as he crisscrosses the state, raising eye-popping fundraising totals exclusively from small donors. Recent polls show Cruz clinging to a single-digit lead in a state that hasn't elected a Democrat to statewide office since 1994. The race has become so competitive that Cruz has resorted to asking his ex-adversary President Trump — who, during the 2016 campaign insinuated that Cruz's father had a hand in killing John F. Kennedy and has attacked Cruz's wife's looks — for help. On Friday, the president confirmed that he would step in.
Cruz is not likely to stay quiet about O'Rourke's omissions. But if there's anyone willing to really exploit a personal flaw, it's our president.