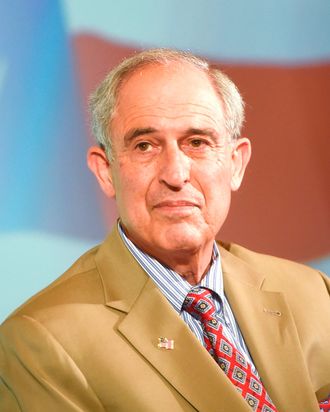 Not Lanny Davis's finest hour.
Photo: Michal Cizek/AFP/Getty Images
In late July, CNN ran a story, co-authored by Watergate icon Carl Bernstein, that included an explosive claim about President Trump. According to anonymous sources quoted in the article, Michael Cohen, Trump's lawyer and a newly minted member of the Resistance, had heard his then-boss speak in advance about the infamous June 2016 Trump Tower meeting between Trump campaign officials and several shady Russians. The Trump administration's account of this meeting, in which the Russians offered dirt on Hillary Clinton, has shifted many times. But the president continues to maintain that he knew nothing about it beforehand. If that assertion were to be proven false, it would be enormously damaging for Trump, and a boon for Special Counsel Robert Mueller's Russia investigation. CNN also reported that Cohen was willing to testify to Mueller about what he'd heard.
But last week, Axios reported that Cohen testified to Congress last year that he had no idea whether Trump knew about the meeting in advance.
And now, BuzzFeed reports that Lanny Davis, Cohen's lawyer, has admitted he was one of the anonymous sources for the CNN story, and that he cannot corroborate his account of Cohen's story.
Davis, a consummate spinmeister best known for his work with the Clinton administration, had been walking back the story in the last several days, telling various outlets that he could not confirm it. But he had not confessed that he was actually a source prior to his admission to BuzzFeed. In fact, he straightforwardly denied such involvement last week, telling CNN's Anderson Cooper, "I think the reporting of the story got mixed up in the course of a criminal investigation. We were not the source of the story."
"I made a mistake," Davis told BuzzFeed, adding, of the Anderson Cooper interview, "I did not mean to be cute" — quite the euphemism for lying.
Davis also told BuzzFeed that he served as a source for other outlets that were seeking to confirm CNN's story. At least two of them, the New York Post and the Washington Post, published stories this week that walked back their original stories. (New York Magazine also ran a story at the time, based on CNN's scoop.)
In the original story, CNN reported that it had reached out to Davis and that he did not comment, failing to mention that he had actually spoken to the outlet anonymously — raising questions about journalistic best practices beyond the scoop itself.
Nevertheless, a CNN spokesperson told BuzzFeed that "We stand by our story, and are confident in our reporting of it."
We'll see how long that lasts.