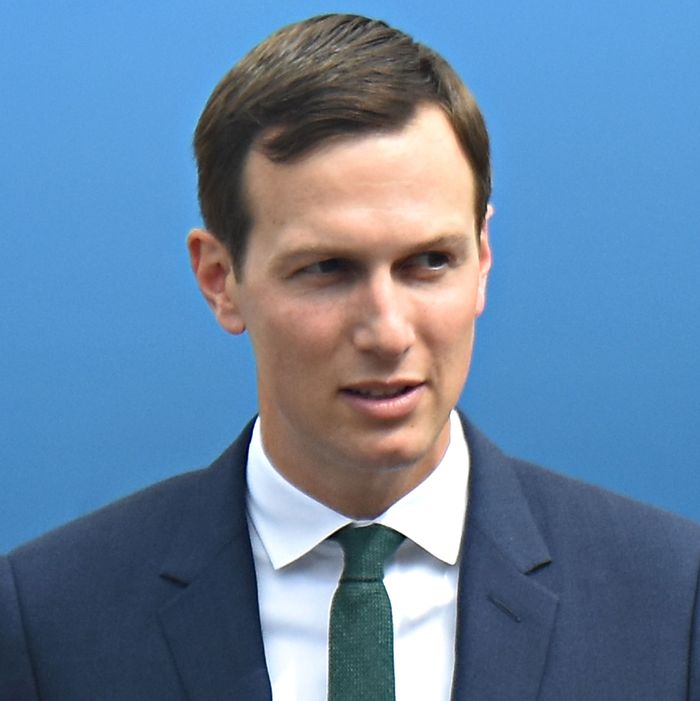 The presidential son-in-law may be on the brink of a White House accomplishment.
Photo: Carlos Tischler/Getty Images
Anyone who has watched the long, tortuous progress of criminal justice reform legislation in Congress (it's done a lot better at the state level) will be reluctant to predict victory at this politically polarized moment. But according to The Hill, one yuuuuge obstacle may be moving out of its path:
President Trump has told Republican senators that he's open to a new proposal on prison and sentencing reform, giving new life to an issue that seemed hopelessly stalled on Capitol Hill.




The compromise presented to Trump by Republican senators at a White House meeting on Wednesday would combine the prison reform bill passed by the House in May — the First Step Act — with four sentencing reform provisions that have bipartisan Senate backing, according to a source familiar with the meeting.  
The First Step Act, to a considerable extent the brainchild of presidential son-in-law Jared Kushner, is a very limited piece of legislation focused on prison operations and prisoner reentry policies rather than the sentencing reforms that have been at the center of criminal justice reform in Washington and around the country. It lost some progressive support in the House precisely because it was half-a-loaf (or maybe a quarter-of-a-loaf), and Senate Judiciary Committee chairman Chuck Grassley was also reported as being cool to anything that narrow. At the same time, the Kushner bill was rumored to be unacceptable to conservative crime demagogues like Sen. Tom Cotton (famous for saying that America had an "under-incarceration problem").
But now Kushner is working with Grassley and others (including most Senate Democrats) interested in merging First Step with some of the sentencing reform provisions that at one point looked very promising in 2016 before the Trump campaign cast a long law-and-order shadow over the Senate and Mitch McConnell pulled the plug. And now, finally, we are seeing positive — if not very specific — signs of support from the president himself:
A senior White House official described the president as "positively inclined" toward the compromise proposal. The source said Trump told GOP senators to "do some work with your colleagues" and "let's see where the Senate is and then come back to me with it."
The sentencing reform provisions in the new compromise are relatively modest in scope:
The proposed compromise would lower lifetime mandatory minimum sentences for people with prior nonviolent drug felony convictions to 25 years and reduce 20-year mandatory minimum sentences for similar offenders to 15 years. But in an effort to reach common ground, that reform would only apply to new sentences and not to people already in jail.




A third reform would apply the Fair Sentencing Act, which Congress passed in 2010 and reduced the disparity between cocaine- and crack-related offenses, retroactively.




The final reform would expand exceptions to the application of mandatory-minimum sentences to more people with criminal histories. 
You have to figure that Cotton will again lead the opposition to this effort, and it's possible Jon Cornyn, who has sponsored the Senate version of the First Step Act, will oppose its marriage to the sentencing reform provisions. And then there's that inveterate criminal justice foe, the Attorney General of the United States, Jeff Sessions.
Clearly Sessions doesn't have the kind of clout he once had in the White House; at this point he'd probably have to talk Kushner into inviting him to meetings on this or any other subject. But just to be sure, Grassley fired this brushback pitch at his former colleague from Alabama:
Grassley said Sessions should steer clear of the debate altogether.




"With all that I have done to help Sessions to keep the president from firing him, I think Sessions ought to stay out of it," he said. 
That would be a very good thing.