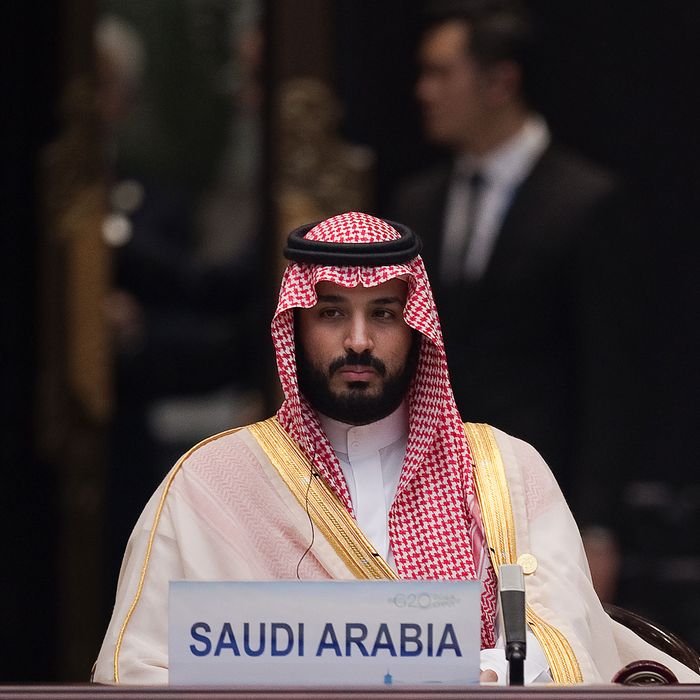 Not a fan of human-rights tweets, apparently.
Photo: Nicolas Asfouri - Pool/Getty Images
Saudi Arabia vs. Canada may sound less like a bitter international feud than an opening-round World Cup matchup, but a strange dispute between the countries, which only really got going on Friday, is escalating fast. How fast? On Monday, a Twitter account associated with Saudi Arabia appeared to threaten Canada with a 9/11–style attack.
A now-deleted verified account called infographic_ksa tweeted an image that was reminiscent of the September 11 attacks on the United States — which were carried out by 19 hijackers, 15 of them Saudi.
Amid (understandable) outrage over the incendiary photo, the Saudi embassy in Washington tweeted that it would be investigating.
Later, the Saudi Ministry of Media ordered the infographic_ksa account, which had 350,000 followers and billed itself as a "voluntary non-profit project […] managed by a group of Saudi youth" to shut down altogether.
The fracas that led to this surreal moment began when Canada deigned to express concern over the treatment of Samar Badawi, a prominent women's rights activist who helped lead the campaign to grant Saudi women the right to drive. Months after that right was finally granted by the reformer/authoritarian Prince Mohammed bin Salman, who is trying to sell himself as a bold, Western-friendly leader, Badawi and other like-minded activists were arrested on unclear grounds.
Canada's objection seemed relatively standard, perhaps even the kind of thing the United States might have done back when it cared about human rights.
But Saudia Arabia reacted as if Canada had just declared war. In a statement released on Sunday, the country accused Canada of "blatant interference in the Kingdom's domestic affairs."
But that was just the beginning. Saudi Arabia proceeded to order the expulsion of Canada's ambassador, suspend flights to Toronto, and cut off "all new businesses transactions and investments linked with Canada." On Monday, the country announced that it would relocate about 7,000 Saudi scholarship recipients studying in Canada.
It remains a bit of a mystery why Saudi Arabia is responding to a routine piece of international criticism with measures that seem torn out of the playbook from its diplomatic war against Qatar.
But between this and President Trump's beef with Justin Trudeau, it's been a bad few months for Canadian reasonableness.