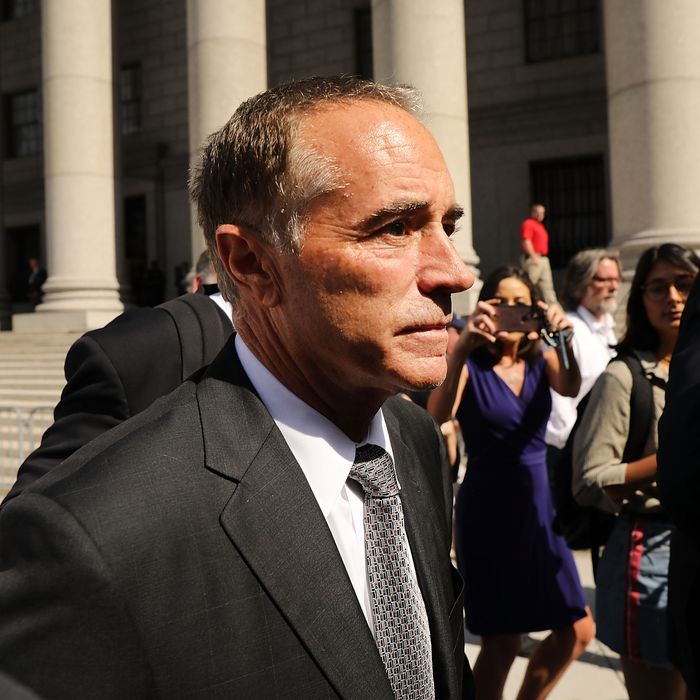 Representative Chris Collins walks out of a New York courthouse after being charged with insider trading on August 8, 2018.
Photo: Spencer Platt/Getty Images
Democrats, already feeling encouraged by their candidate's performance in Ohio's special election, got another break on Wednesday when Chris Collins, a western New York congressman and Trump ally, was arrested and charged with conspiracy to commit securities fraud.
The evidence against Collins is pretty compelling. The indictment from the U.S. attorney in Manhattan alleges that within minutes of learning that a drug from Innate Immunotherapeutics, an Australian biotech company he was heavily invested in, had failed an FDA trial, he went into a panic. After repeated calls, he got through to his son Cameron Collins, also a major shareholder, and passed along the news. Cameron dumped the stock before they even ended the call, allowing him to avoid $570,000 in losses when the news became public and the stock tanked.
The indictment cites phone records, texts, and bank records. And to make matters worse, Collins happened to make the call while he was attending a congressional picnic at the White House last summer. There's even footage that appears to show him on the phone with his son.
However, Collins has pleaded not guilty, and on Wednesday evening he announced that he will continue seeking reelection in New York's 27th Congressional District. And there's a very good chance that he'll be elected to a fourth term.
Collins did face some political consequences following his arrest. House Speaker Paul Ryan removed him from the House Energy and Commerce Committee, calling for a "prompt and thorough" investigation by the House Ethics Committee — though that was already underway. Last October the Office of Congressional Ethics released a report that concluded there was "substantial reason to believe" that Collins had violated both federal law and House ethics rules by updating shareholders with nonpublic information about the company, and using his position in Congress to benefit the firm. Yet, no further action was taken.
The Cook Political Report also downgraded Collins's seat from "solid" to "likely" Republican. FiveThirtyEight's Nate Silver said a scandal can cost a House candidate more than ten points, and this one seems pretty bad.
Democrats seized on the idea that the seat could be another battleground in the midterms. Collins is facing Democrat Nate McMurray, the town supervisor of Grand Island, a suburb of Buffalo. At the end of June, McMurray's campaign had around $82,000 in the bank, compared with Collins's $1.3 million. McMurray told reporters at a press conference following his opponent's arrest that his campaign "probably raised more this morning than we have in the whole race."
"If this wouldn't have come out, he may have well just coasted in," McMurray added. "Now it's time for us to ask ourselves: Is this the type of leadership we want?"
The district was already on the Democratic Congressional Campaign Committee's "target" list of 111 seats that could be in play, as the Collins ethics scandal has been brewing for more than a year. Meredith Kelly, the group's communications director, said that with Collins's indictment, "unprecedented grassroots energy, and the strong candidacy of Nate McMurray, this seat is firmly in play for Democrats."
Though McMurray's chances have clearly improved significantly, defeating Collins is likely to remain an uphill battle. According to the Almanac of American Politics, the district is "the most Republican district in the state by most measures," and also the New York district where Trump performed best. In 2016, Trump won by 24 percentage points, and Collins, the first member of Congress to endorse him, won reelection by 34 points.
You don't have to look far to find an example of a member of Congress who won reelection despite facing charges. Six years ago, Republican Representative Michael Grimm was reelected in Staten Island while under a federal indictment for fraud and perjury. He resigned soon after the election, pleaded guilty to felony tax fraud, and spent several months in prison.
"It's very possible for Collins, even under indictment, to win this seat and reelection," George Arzt, a longtime New York Democratic strategist, told the New York Times.
Even if Democrats can't win Collins's seat, his indictment may help them nationwide by bolstering their message that the Republican Party has plunged deeper into lawlessness under President Trump. It's also possible that other politicians could become entangled in the Collins scandal, as the Office of Congressional Ethics found he shared private information with some lawmakers to encourage them to invest. Several House Republicans, including Representatives Markwayne Mullin, John Abney Culberson, Doug Lamborn, and Billy Long, as well as former Health and Human Services secretary Tom Price, invested in Innate Immunotherapeutics.
"The charges against Congressman Collins show the rampant culture of corruption and self-enrichment among Republicans in Washington today," said House Minority Leader Nancy Pelosi said in a statement on Wednesday.
"The American people deserve better than the GOP's corruption, cronyism, and incompetence," Pelosi continued. "While House Republicans enrich themselves and their special interest donors, Democrats are committed to cleaning up corruption to make Washington work For The People."
Democrats pushed a similar message about Republican corruption in 2006, the last Democratic midterm-wave election.