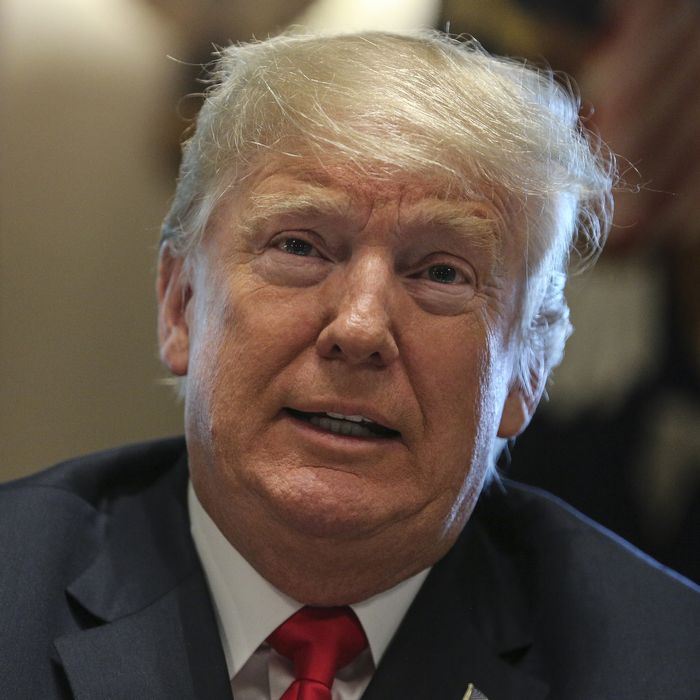 Collusion isn't the only crime.
Photo: Bloomberg/Bloomberg via Getty Images
As journalists scrambled to report on two stunning, simultaneous legal developments on Tuesday afternoon — Michael Cohen pleading guilty to campaign finance violations and Paul Manafort's conviction in his financial fraud trail — President Trump and his legal team insisted there was simply nothing to see.
"It doesn't involve me but it's a very sad thing," Trump said of the Manafort verdict. "It had nothing to do with Russian collusion."
"There is no allegation of any wrongdoing against the president in the government's charges against Mr. Cohen," said Trump's lawyer, Rudy Giuliani.
Of course, anyone who can decipher the Cohen plea agreement's reference to "Individual 1," who "became President of the United States," knows that's not true. The Cohen and Manafort developments plunged Trump into more serious legal jeopardy on several fronts, and dealt a huge blow to his effort to discredit Special Counsel Robert Mueller. Here's why Trump's legal troubles are now far more serious.
Trump was implicated in a federal crime, though he probably won't be charged.
While entering his guilty plea on Tuesday, Cohen said he paid hush money to two women who claim they had affairs with Trump, Stormy Daniels and Karen McDougal, "in coordination and at the direction of a candidate for federal office." His plea agreement said these payments were made "for the principal purpose of influencing the election."
Generally, if your lawyer pleads guilty to committing crimes at your behest, you should expect to face charges very shortly. But Trump probably won't be indicted — for now, at least — solely because he's president.
The Constitution does not say that a president can't be indicted, but the conventional wisdom holds that he's immune from criminal prosecution. If the president is a crook, it's up to Congress to impeach him; he can be charged only after he leaves office.
This view has been embraced by many legal scholars, as well as the Justice Department's Office of Legal Counsel. Some academics argue that the president can indeed be prosecuted while in office, but the Supreme Court has never settled the matter.
Cohen's admission brings us closer than ever to resolving the question. Campaign finance prosecutions are rare, and the case most relevant to Trump's predicament is the 2012 trial of presidential candidate John Edwards over allegations that two donors spent nearly a million dollars to cover up his extramarital affair. Edwards was acquitted on one count and the jury couldn't reach a decision on the others. The case hinged on whether the money was spent primarily for personal or political reasons. Trump allies are likely to make that same argument in the coming weeks, though the case against Trump is much stronger: The payments to Daniels and McDougal were made immediately before the election, Cohen said they were political, and he has a tape that proves Trump knew about them.
However, that's likely to be a moot point (and not just due to holes in our campaign finance laws). If Mueller wanted to charge Trump, he could ask a grand jury to indict him, after seeking permission from Deputy Attorney General Rod Rosenstein. But Trump's lawyers claim that Mueller's office has told them that it will adhere to the Justice Department's view that sitting presidents can't be indicted.
If that's true, Mueller could seek an indictment but delay the proceedings until after Trump leaves office, or just put together a report that Congress could use to pursue impeachment. In that case, Trump might be the first president since Nixon to be named an "unindicted co-conspirator" in legal proceedings. In fact, some academics say that's essentially what happened on Tuesday.
"The president's personal attorney has given sworn testimony in open court that he committed campaign finance violations in coordination with and at the direction of the president," Duke's Lisa Kern Griffin told Vox. "Although the president is not named in the charges, he is all but an unindicted co-conspirator."
Cohen and Manafort are more likely to flip for Mueller.
President Trump was surprisingly restrained at a rally in West Virginia on Tuesday night, though he did make a passing reference to the "fake news and the Russian witch hunt." He asked, "Where is the collusion? You know, they're still looking for collusion! Where is the collusion? Find some collusion. We want to find the collusion."
It's true that neither Manafort's conviction nor Cohen's guilty plea shed light on the Trump-Russia connection, but they both increase the likelihood that the men will cooperate with Mueller's team.
After being found guilty on eight counts of bank and tax fraud, Manafort is facing a maximum sentence of 80 years in prison. And his trial in D.C. next month, which will focus more on his work with pro-Russian interests, could lengthen his sentence significantly.
Cohen's plea agreement, which includes jail time, does not require him to cooperate with prosecutors in Manhattan or Mueller's team, but it doesn't preclude him from doing so in the future. The reasons for this are unclear, but Cohen's lawyer, Lanny Davis, suggested on Tuesday night that it's not because his client is unwilling to cooperate. Davis told Rachel Maddow that Cohen has information on Trump's knowledge of Russian hacking and "the obvious possibility of a conspiracy to collude and corrupt the American democracy system in the 2016 election." He said his client would be "more than happy" to relay that information to Mueller.
If either Cohen or Manafort provide significant assistance to the special counsel's investigation, Mueller could recommend that their sentences be reduced.
Trump may have to give a deposition in the Stormy Daniels suit.
Stormy Daniels filed a lawsuit to get out of her hush agreement with Trump, but in April a California judge put the case on hold for 90 days as the Cohen criminal probe moved forward in New York. Daniels's lawyer, Michael Avenatti, said on Tuesday that in light of Cohen's guilty plea, he'll move forward with efforts to depose Trump.
Trump may be tempted to pardon Cohen and Manafort.
Tuesday's developments might make pardoning Cohen and Manafort look more attractive to Trump. The president has the authority to issue a pardon or commute the sentence of anyone he wants (and maybe even himself). But in this situation, that would be an incredibly risky move for a number of reasons.
First, Trump can't issue pardons for state crimes, and while so far his aides have only been charged at the federal level, state attorneys general could file their own charges.
Second, Trump's former associates would be unable to plead the Fifth Amendment if called to testify against him. The amendment only applies to self-incrimination, so if Cohen or Manafort were no longer at risk of prosecution, they'd have no justification for refusing to answer Mueller's questions.
Finally, Trump could be opening himself up to further obstruction charges if he issues pardons to protect himself. In a Times op-ed, Noah Bookbinder and Norman Eisen of Citizens for Responsibility and Ethics, and white-collar criminal defense attorney Barry Berke, explained the potential consequences for the president:
A pardon for Mr. Manafort could also end up inflicting more harm on the Trump presidency than any of the other allegedly obstructive acts Mr. Trump has so far undertaken. The Constitution and the laws of our country do not allow Mr. Trump to dangle the possibility of, or explicitly offer, pardons with corrupt intent.




If his fawning statements about Mr. Manafort during the jury deliberations were part of an effort to impede or harm the investigation, that could be used to support the obstruction of justice case against him. If he or his representatives had gone further and actually promised or offered pardons to Mr. Manafort or other potential Mueller witnesses to prevent or change their testimony, as some reports suggest, that could support bribery charges as well.
There's now a stronger case for impeachment.
Impeachment is a political process, not a criminal one, and Republicans in Congress have shown a very high tolerance for actions that might have once been considered "high crimes and misdemeanors." Some of Trump's allies have already shrugged off Tuesday's implications, suggesting that the president should only be held accountable if he personally conspired with Vladimir Putin to steal the 2016 election.
But the fact that the hush payments have nothing to do with Russia is what makes Cohen's claims so dangerous for Trump. Even if Mueller finds Trump knew nothing of Russia's effort to boost his candidacy, he's still been accused of violating federal law.
"This is the first of all the people in Trump's orbit who have been indicted or convicted or taken plea deals, this is the first that implicates the president in any wrongdoing," noted Rick Hasen, a law professor at the University of California at Irvine.
Tuesday's legal bombshells amplified the message that Mueller's investigation is much more than a "phony witch hunt." And Republicans may not control Congress forever.
"It certainly gives the Democrats, should they win the House of Representatives, a serious piece of evidence to enter into articles of impeachment," Mark Corallo, former spokesman for Trump's legal team, told Politico. "When you can say that the president directed someone to break the law that's a problem. That's a big problem."