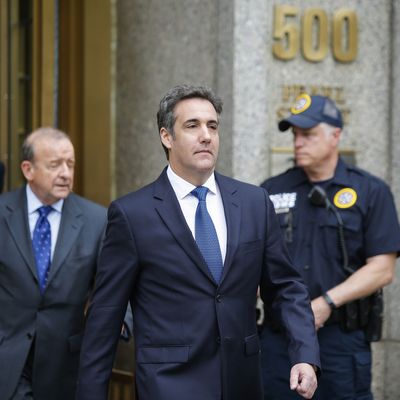 Not the president's favorite person at the moment.
Photo: Eduardo Munoz Alvarez/Getty Images
Michael Cohen said in district court on Tuesday that he had committed campaign-finance violations at the direction of President Trump, an enormously significant disclosure that could spell major legal trouble for the president.
Specifically, Cohen said that he had paid hush money to two women, Stormy Daniels and Karen McDougal, to buy their silence in the run-up to the 2016 election "in coordination and at the direction of a candidate for federal office" referred to as "Individual 1" in the government's charges. These payments were made, according to the plea deal, "for the principal purpose of influencing the election."
Cohen, a former lawyer and fixer for Trump, had surrendered to federal authorities earlier in the day after reaching a plea deal on eight federal charges. He pleaded guilty in a Manhattan courtroom to charges that encompassed bank fraud, tax fraud, and most importantly from the president's point of view, the campaign-finance violations. The tax-fraud accusations includes possibly fraudulent loans that Cohen obtained during his shady years in the New York City taxi business. Sentencing will take place on December 12.
Cohen's jaw-dropping disclosure came at around the same time as ex-Trump campaign manager Paul Manafort was convicted on eight charges at his fraud trial Virginia.
Speaking to the press before a well-timed rally in West Virginia, Trump said he felt "very badly" about the Manafort verdict, but did not comment on Cohen.
Current Trump lawyer Rudy Giuliani said, puzzlingly, "There is no allegation of any wrongdoing against the president in the government's charges against Mr. Cohen. It is clear that as the prosecutor noted Mr. Cohen's actions reflect a pattern of lies and dishonesty over a significant period of time."
Cohen is likely to face some prison time — CNN reports that "Cohen is pressing for three years but prosecutors are seeking 50 months" — and pay a hefty fine. But pleading guilty means that he will avoid a possibly lengthy and expensive trial. Politico reports that Cohen gave himself up "to save millions of dollars, protect his family, and limit his exposure."
Things had been looking ominous for Cohen since the FBI raided his office over the campaign payments in April, hauling off reams of evidence that could be used against him and the president. Though he had been seen as the ultimate Trump loyalist (despite years of disdainful treatment from the president), he soon broke from his hero, presenting a major problem for the White House. Trump's lawyers have reportedly viewed the Cohen case as more threatening to his position than Special Counsel Robert Mueller's Russia investigation.
Whatever his future holds, the Michael Cohen appearing in court on Tuesday is a long way from the swaggering macher who used to threaten reporters and taunt certain other prominent people about the prospect of prison.