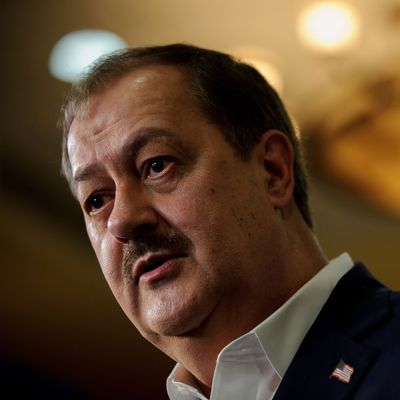 Looks like the end of the line for Blankenship '18.
Photo: Jeff Swensen/Getty Images
Today's hearing at the West Virginia Supreme Court probably wasn't the most traumatic court appearance in Don Blankenship's life. That would probably be the federal district court appearance on April 6, 2016, when he was sentenced to a year in prison after being convicted of a conspiracy to violate mine safety standards in connection with the Upper Big Branch explosion that killed 29 miners.
But still, it had to be a bummer for the ex–coal mogul, as reported by The Hill:
Ex-coal CEO Don Blankenship's bid to appear on the November ballot in West Virginia's Senate race as a third-party candidate was denied Wednesday by the state's Supreme Court. 




"The West Virginia Secretary of State is ordered to take whatever measures are necessary to ensure that Donald L. Blankenship does not appear on the 2018 General Election Ballot for the Office of United States Senator for the State of West Virginia," the court wrote in its order.
Blankenship had been offered the ballot line of the far-right Constitution Party, but was barred from taking it by Secretary of State Mac Warner, citing the state's "sore loser" law to keep Blankenship from doing exactly what he wanted to do: get revenge on a national and state Republican Party that he felt had ganged up on him prior to the May 9 primary, in which he finished a poor third. Ambiguities in the legislative history of the sore loser law gave Blankenship some hope of a victory in court, but West Virginia's highest court dashed it. Unless his lawyers can come up with some federal constitutional right that has allegedly been violated in his case (can't imagine what that would be) that would open up a new legal avenue to the ballot, Blankenship '18 is done.
This was great news for the GOP Senate nominee Patrick Morrisey, who celebrated with a statement worthy of his supporter Donald Trump:
No more distractions to hide lying liberal Joe Manchin's record of supporting pro-abortion policies, gun control, and Hillary Clinton's campaign against coal miners.
I guess "whew!" wasn't enough. But Morrisey doesn't have much time to waste. The last two public polls showed the "lying liberal" beating him by seven and ten points. Manchin also has about a 7-to-1 lead over the Republican in campaign cash, though outside GOP and conservative groups will narrow that gap significantly. And at least now Morrisey doesn't have to worry about Blankenship draining critical conservative votes from people who think the very uninhibited ex-con is the only genuine Trump-like figure on the ballot.