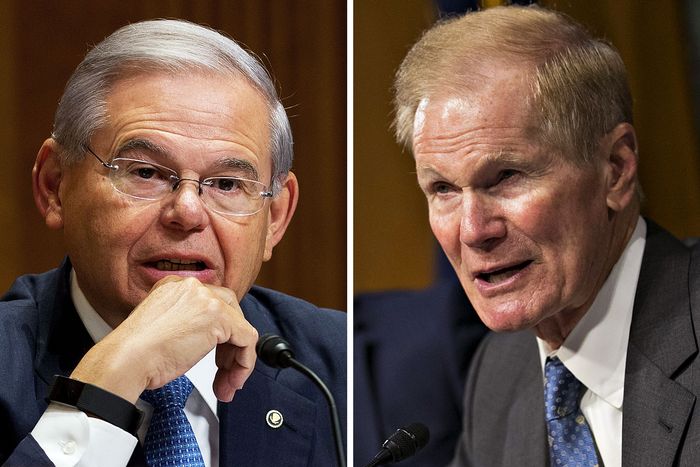 Bob Menendez is in a close race in New Jersey and Bill Nelson's trailing in Florida.
Photo: Tasos Katopodis/Getty Images; Andrew Harrer/Bloomberg via Getty Images
In the discussion of Democratic prospects for retaking control of the Senate this year, the focus has mostly been on Democratic incumbents in states that Donald Trump carried by large margins in 2016: Joe Manchin of West Virginia, Heidi Heitkamp of North Dakota, Jon Tester of Montana, Claire McCaskill of Missouri, and Joe Donnelly of Indiana. There's been considerable interest as well in potential Democratic wins in GOP-held seats in Arizona, Nevada, and Tennessee.
But as the Dog Days churn along, an unexpected soft underbelly of the Senate Democratic campaign has developed in two states that are considerably less problematic than West Virginia or North Dakota. In purple-state Florida, three-term incumbent Bill Nelson is already falling significantly behind Republican Governor Rick Scott. And in very blue New Jersey, two-term incumbent (and House veteran before that) Bob Menendez is not exactly putting away his underdog Republican opponent, retired pharmaceutical executive Bob Hugin. If Democrats manage to lose these two seats they could lose ground in the Senate even if all their "Trump country" incumbents survive.
Nelson's troubles have been steadily increasing in the course of the campaign. To begin with, Scott as governor has a significantly better job approval number (54 percent) than Nelson as senator (44 percent), according to Morning Consult's July numbers. He's also better known, even though Nelson won his first congressional race in 1978 and his first statewide office (insurance commissioner) in 1994. Much of that is due to the incumbent senator's laid-back style, which has provided quite the contrast with the paripatetic governor, who has been campaigning frantically even as Nelson seems content to hold his fire (and his money) until late in the cycle, as the New York Times recently reported:
Mr. Nelson's plan has been to hold off running expensive television advertising until the fall, when it will matter the most, and to be ready to counter any last-minute spending by Mr. Scott, who poured $10 million of his own money into his gubernatorial campaign in the final days of the 2014 race.
Though polling in the race has mostly showed a close contest, there are some signs Scott may be pulling ahead. He's up by 6 points in the latest poll from Florida Atlantic University. And he's undertaking a heavy investment in Hispanic voter outreach that could be an existential threat to any Democratic candidate, not just among the usually Republican-leaning Cuban-American population of South Florida, but in the crucial pro-Democratic voting block of Puerto Ricans, as the Washington Post has observed:
Scott has been blanketing Spanish-language broadcasters with spots boasting of his attention to the Latino community and documenting heavily-accented attempts at speaking Spanish.




He has started saying he will represent both Florida and the commonwealth of Puerto Rico if elected to the Senate, and has highlighted the efforts his administration undertook after the 2017 hurricane to make it easier for Puerto Ricans to relocate to Florida.
Along with Scott's conspicuous efforts to distinguish himself from Donald Trump on immigration issues, it seems to be working for him, as a July survey of Puerto Ricans in Florida showed:
More than seven in 10 of the 1,000 Puerto Ricans interviewed for the poll commissioned by Florida International University have a bad a very bad opinion of President Trump. By contrast, more than 55 percent have a good or very good opinion of Gov. Scott — a whopping 82 percent among those who moved to Florida since 2017 when Hurricane Maria devastated the island.
Nelson's patient strategy against Scott's aggressive approach has not earned him much admiration among national Democrats:
We'll see if his planned autumn counterattack works.
Meanwhile, Menendez remains a favorite for reelection, but Democrats are appropriately worried that an incumbent in a state as blue as New Jersey seems so vulnerable. Menendez's image, of course, took a battering during an extended federal corruption trial last year that involved allegations of bribery and influence-peddling. In November, though, a jury failed to reach a verdict in his trial, and subsequently a judge dismissed some of the charges and federal prosecutors decided in January of this year to drop the case.
Menendez did attract a primary challenger early on, but the end of the corruption case against him took the steam out of it, leading his challenger to drop out in March:
Michael Starr Hopkins said in a statement Friday afternoon that he would suspend his campaign after concluding he had been unable to raise enough money to mount a serious challenge to Menendez, who has the support of virtually all of the top Democrats in the state.
Still, Menendez was "admonished" by the Senate Ethics Committee in April for failing to report some of the gifts disclosed in the corruption trial, and as of July his approval ratio in New Jersey was at a dangerously low 33/41. And unfortunately, in Hugin he drew a Republican challenger with the money to make a real race of it despite New Jersey's partisan tilt.
As of the end of June, Hugin had out-raised Menendez by nearly a two-to-one margin, and with the challenger having to spend freely to make himself known, it appears the two candidates will be on a roughly even financial keel heading towards November, though a big variable is whether either national party or the "outside groups" that support them will invest in this race. Menendez has never trailed, but the most recent survey from Quinnipiac shows his lead shrinking to 43/37 with some internal findings that should be of concern to Democrats:
Voters give Menendez a negative 40 - 47 percent approval rating and a negative 29 - 47 percent favorability rating. 




Hugin gets a slightly positive 24 - 20 percent favorability, but 54 percent of voters haven't heard enough about him to form an opinion. 




Ethics in government is the most important issue in deciding how they will vote for U.S. Senator, 25 percent of New Jersey voters say, as 21 percent list taxes; 19 percent cite health care, with 14 percent each for immigration and the economy. 




"As Sen. Robert Menendez sees his once dominant lead whittled down to single digits, New Jersey voters are sending a clear message. They are troubled by the ethics cloud hanging over him," said Mary Snow, polling analyst for the Quinnipiac Poll. 
Granted, Hugin's background as a pharmaceutical executive makes him vulnerable to ethics counterattacks, and it would be an odd year for New Jersey to elect a Republican senator. The big question is probably what happens with the fairly sizable undecided vote: Does it break against the relatively unpopular incumbent, as political science lore would suggest? Or is the race subsumed in a broader anti-Trump wave? Add this to the abundant Senate story-lines we will be watching in October.