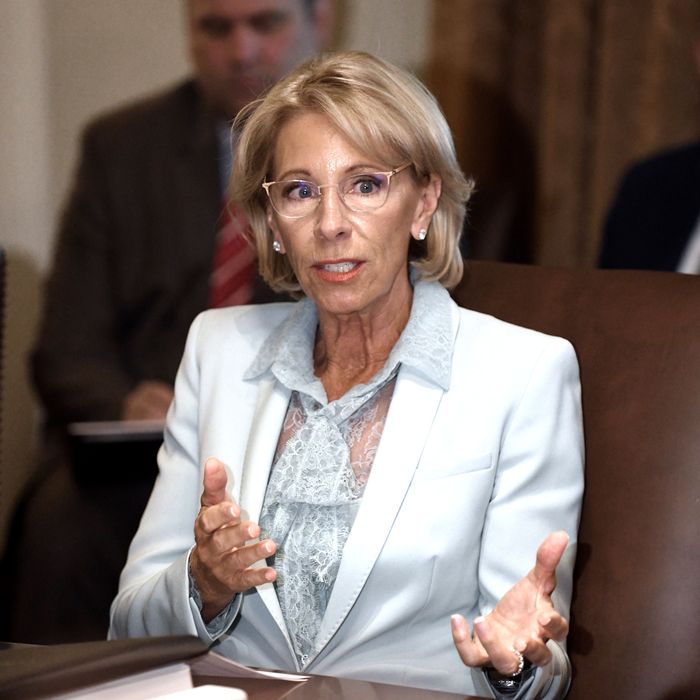 Secretary of Education Betsy DeVos, who favors subsidies without accountability for both K-12 private schools and for-profit colleges
Photo: Olivier Douliery/Getty Images
It is unsurprising that an administration headed by the one-time proprietor of Trump University is leading a drive to let for-profit colleges receive federal subsidies without having to demonstrate they are doing more good than harm to their students. It is even less surprising that the specific advocate for this and similar policies is Education Secretary Betsy DeVos, who has devoted much of her life and her considerable fortune to promoting publicly financed private education.
DeVos's department is taking steps towards rescinding rules promulgated by the Obama administration that require for-profit schools to show what percentage of their graduates are engaged in "gainful employment" — i.e., how many people in the booming economy the administration loves to brag about are actually earning incomes commensurate with the student debt they've accumulated — or lose access to federal aid programs. The rules were adopted in response to growing signs of poor performance in the for-profit higher education sector, and followed the fiscally conservative principle that Washington shouldn't be subsidizing fraud and failure.
There are multiple arguments to make against the proposed DeVos measure, but at the moment Senate Democrats are focused on exposing their cost, as Roll Call reports:
The Trump administration's proposal to repeal Obama-era requirements for recipients of federal student aid comes with a price tag of about $5.3 billion over a decade, a figure that is already giving critics ammunition as the Senate prepares to turn to Education Department appropriations this week …




 Sen. Patty Murray, D-Wash., slammed the move as a giveaway to for-profit colleges that would cost taxpayers billions of dollars. Murray is the top Senate Democrat both on the Health, Education, Labor and Pensions Committee and the Labor-HHS-Education Appropriations Subcommittee. She'll be leading debate for her side of the aisle next week when the $179.3 billion Labor-HHS-Education measure comes to the floor, as part of a package with the $675 billion Defense spending bill.
The $5 billion–plus cost represents loan and Pell Grant money poured down the rathole of for-profit schools that can't show they've offered value for the often-high tuitions they charge. The answer DeVos and her allies generally offer, of course, is that only "markets" establish fair value, not some gobbledygook federal standards that compare tuition or aid to later earnings. But as New York's Jonathan Chait recently pointed out, this is a misappropriation of what "markets" are supposed to do:
One might explain DeVos's stance as free-market ideology run wild. But there's no free market to speak of here. The question isn't whether for-profit colleges can operate, it's whether they can operate with federal subsidies. The liberal position is that, if the government is going to finance higher education, it should impose some measures to make sure it's actually getting some higher education. The Trump position is that business is entitled to federal subsidies, and the grifting business is especially welcome.
In the past DeVos has been frank about why she thinks private educational institutions demand public funding, as in this 2001 statement:
There are not enough philanthropic dollars in America to fund what is currently the need in education … Our desire is to confront the culture in ways that will continue to advance God's kingdom.
This last, jarring note is not the sort of thing you will hear Betsy DeVos say publicly these days, but it casts light on her (and on Dick DeVos, her husband's) determination to commandeer public treasuries for private educational purposes in the K-12 as well as higher education arenas, as I noted during her confirmation hearings:
DeVos and her husband have devoted themselves and much of their vast wealth to severing any link between public-education funding and public accountability, championing the idea that parents, with zero accountability to anyone, should be the sole distributors of taxpayer dollars. That's why they have supported attaching funds to the individual child, to follow them wherever their parents choose. And that's why in addition to supporting the use of public funds at private or religious schools — or for religiously motivated home-schooling — the DeVoses have fought to make charter public schools in their own state of Michigan as unaccountable as possible — contradicting the very idea of the "charter."
In the case of for-profit colleges as well as private K-12 schools, DeVos will argue she is acting as an advocate of parents and students, not the school proprietors preying on them. But that's why the fiscal arguments against her proposals are important: They're a reminder that taxpayers and the general public on whose behalf the federal government is supposed to work ought to have a say in this, beyond representing the deep pockets accessed to pay for the alleged "market" decision in favor of private schools. As for DeVos's ultimate motivation, one might observe that God's kingdom can and should get along without government subsidies.