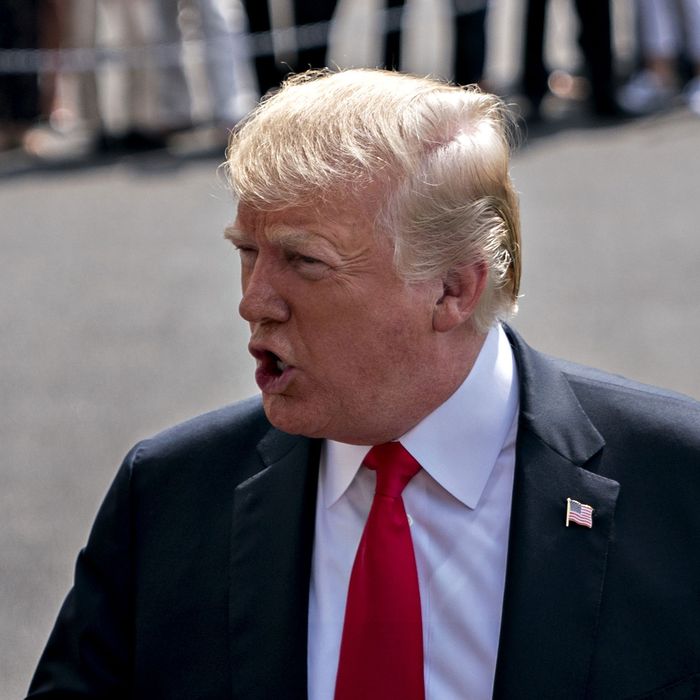 And another thing…
Photo: Andrew Harrer/Bloomberg via Getty Images
As a jury in Arlington, Virginia, entered the second day of deliberations in the tax- and bank-fraud case against Paul Manafort, President Trump offered some warm words for his former campaign chairman.
"I think the whole Manafort trial is very sad, when you look at what's going on there. I think it's a very sad day for our country," Trump said Friday. He went on to insist that Manafort only briefly worked for him, but said that was long enough to know that Manafort is a top-notch guy. "He worked for me for a very short period of time. But you know what? He happens to be a very good person. And I think it's very sad what they've done to Paul Manafort."
It's worth noting that the "they" Trump references here is his own Justice Department and "what they've done" is charge him with crimes for which he seems pretty guilty. It's hardly a miscarriage of justice.
Trump's comments came as a 12-person jury continues to work toward a verdict on the 18 charges brought against Manafort by Special Counsel Robert Mueller. After deliberating all day Thursday, the jury sent a list of questions to Judge T.S. Ellis, including one asking for clarification on the definition of "reasonable doubt." Some expert observers have noted that this is not good for the prosecution.
If Manafort is convicted though, he may get a lifeline from Trump, who could pardon him. Asked about the possibility of doing just that Friday, the president dodged: "I don't talk about that," he said.