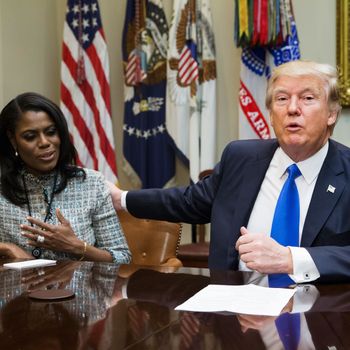 Omarosa Manigault Newman, left, and Donald Trump.
Photo: Michael Reynolds - Pool/Getty Images
President Trump hired an unqualified employee for a high-ranking White House position. Despite her poor performance, abusive behavior toward co-workers, and frequent failure to attend work, he overruled the advice of his chief of staff and retained her. His reason for doing so, despite having little contact with this toxic employee, is that she flattered him.
This devastating account of Trump's managerial incompetence does not come from the anonymous insiders who constantly supply White House reporters with brutal portraits of the president's ineptitude. The source, rather, is Donald Trump himself. He said this in public today. On purpose!
It is not the first time Trump has accused himself of hiring terrible people. He accused his former chief strategist, Steve Bannon, of having lost a crucial Senate seat for his party, "leaking false information to the media," and having "lost his mind." All in all, a reprehensible person to pick as your chief political strategist.
After former Trump campaign aide Sam Nunberg told the New York Times that Trump mistreated Michael Cohen, Trump attacked Nunberg as a "drunk/drugged up loser." Trump also insisted at the same time that Michael Cohen is "a fine person."
Trump has since changed his mind on Cohen, too. He recently accused his former attorney of fabricating stories and having been involved in criminal activity in New York:
Trump's current attorney, Rudy Giuliani, has called Cohen a "pathological liar." Sounds like Trump picked a bad person to be his fixer, then.
Trump has likewise called his attorney general, Jeff Sessions, "very weak," "disgraceful" and, most uncontroversially, "beleaguered." (Which he is surely is, by Trump.) So Trump failed at his job of appointing a non-weak, non-disgraceful person for one of the most important jobs in government.
On top of this, Trump has repeatedly slammed his own appointments in private, according to numerous reports. He has dismissed Commerce Secretary Wilbur Ross as "past his prime," called Education Secretary Betsy DeVos "ditsy," subjected Homeland Security Secretary Kirstjen Nielson to a lengthy tirade in which he called her a total failure at his highest domestic priority, and so on.
American politics is bitterly divided, and Trump has shown an amazing talent to persuade his supporters to support his most unhinged and fallacious claims. But on one issue, Trump and his staunchest critics are in full agreement: Trump hires the worst people.