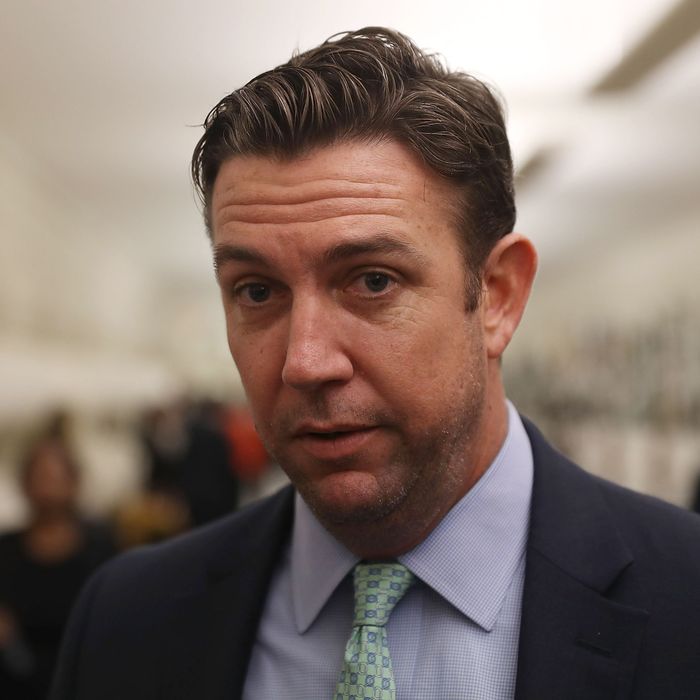 Republicans are stuck with the heavily indicted Duncan Hunter, making a very safe Republican district dicey.
Photo: Joe Raedle/Getty Images
One of the first two congressmen to endorse Donald Trump for president was Chris Collins of New York, who recently ended his reelection campaign after being indicted on insider trading charges. The other was California's Duncan Hunter, who was indicted on Tuesday, along with his wife, for using hundreds of thousands of dollars of campaign funds for personal use. This really hasn't been a good day for the president.
The indictment wasn't a total surprise: Hunter has been under investigation by the Justice Department for misuse of campaign funds for more than two years. But the actual indictment shows malfeasance at an epic level, as CNN reports:
Hundreds of thousands of dollars in unusual charges on Hunter's campaign credit card had come under scrutiny, including among other things, an Italian vacation, dental work, purchases at a surf shop, and huge tabs at bars in restaurants in the San Diego and Washington, DC, areas. Among the most mocked charges was airfare for a pet rabbit to fly with the family, which an aide said was mistakenly charged to the wrong credit card.
Maybe the airfare for the rabbit was a mistake, but it's impossible to believe the whole wild range of expenses was an oversight. And the statement from the Department of Justice alleges that the Hunters were deliberately using campaign money to pay for expenses they could not personally afford.
While the indictment hardly came out of the blue, the timing is terrible for the GOP. The allegations are of a nature and extent that would normally cause a congressman to retire if not resign. But it's too late for Hunter to remove his name from the ballot.
Hunter's San Diego County–based 50th Congressional District leans pretty heavily Republican. After the candidate Democratic professionals were hoping for, former Navy SEAL Josh Butner, finished third in the "top two" primary in June, Cook Political Report reclassified the race from "Likely Republican" to "Solid Republican." But the second-place finisher, liberal former Labor Department official Ammar Campa-Najjar, has done a good job of fundraising, and will merit a second look. He is not, after all, under indictment for using campaign funds to buy airfare for a rabbit.