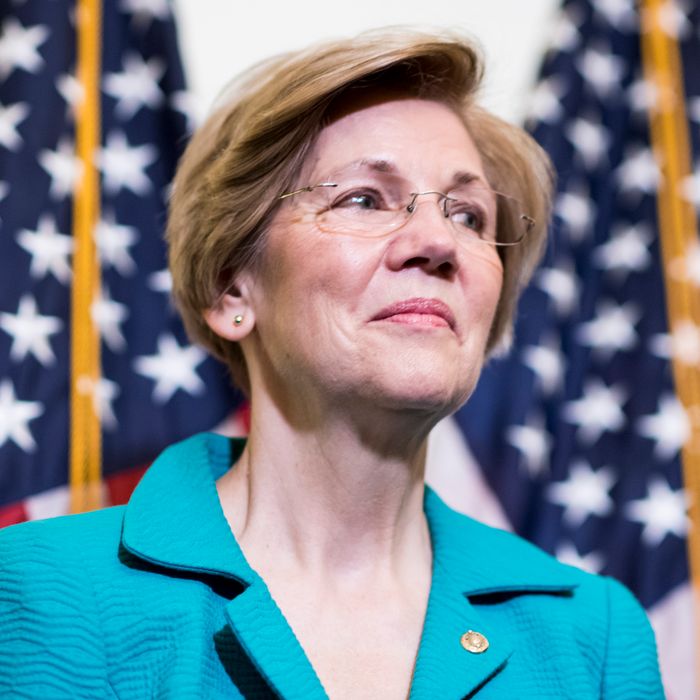 Warren hasn't announced anything, of course, but it certainly looks like she's setting up a presidential run.
Photo: Bill Clark/CQ-Roll Call,Inc.
Elizabeth Warren's had a deceptively busy last few weeks. She dropped one long-shot policy proposal that would try to remake corporate America, then another that aims to actually drain the Washington swamp. She put restrictions on her own fundraising practices and opened her financial books, and bid two staffers farewell as they shipped up to new jobs in New Hampshire.
Let's play a game of connect the dots.
Alone, each dot can be read as an incremental, progressive political move. The overall picture, however, is yet more evidence that the Massachusetts senator is prepping for a 2020 presidential run — and moving significantly more aggressively than is widely recognized, by pundits and her potential opponents alike.
The late summer series of public-facing maneuvers comes with the 2020 race set to hit center stage in fewer than 70 days, as soon as the midterms pass. Warren's fellow top-tier Democratic primary contenders Joe Biden and Bernie Sanders are both planning to make politically resonant Labor Day appearances — Biden in Pittsburgh and Sanders in Manchester, New Hampshire — and her fellow Massachusetts hopeful, former governor Deval Patrick, on Wednesday launched a PAC intended to help him back allied candidates around the country.
But the potential front-runner's moves stand out largely because they break beyond the serious groundwork she's already laid — from raising gobs of campaign cash and ordering up waves of self-research to strengthening her ties to party power brokers and working to minimize her vulnerability on the touchy issue of her disputed Native American ancestry — further muscling her ahead of the rest of the potential field in terms of political preparation. The effort has also opened Warren to months of extra scrutiny from Republicans eager to define her for American voters before a potential general election matchup against Donald Trump, who used his "Pocahontas" nickname for her yet again in passing during a speech in Ohio last week.
"I would put her in the category of a few candidates — people who are, without running, doing whatever they can to be running in practical terms," said leading party strategist Dan Kanninen, a Barack Obama and Hillary Clinton campaign veteran. "This last two weeks may put her at the front of that pack."
The new push began in earnest two weeks back, when Warren announced new corporate accountability legislation — which would force large companies to consider stakeholders in top-level decisions, limit execs' ability to sell their shares, and require the organizations to get shareholder and board approval for political spending — to some fanfare. One week later, she summoned the Washington media to the National Press Club for the unveiling of another bill, which she called "the most ambitious anti-corruption legislation proposed in Congress since Watergate," proposing to ban members of Congress, the Cabinet, and the federal judiciary from owning or trading individual stocks; to ban foreign lobbying and lobbyist donations to campaigns; and to prohibit former members of Congress, ex-presidents and onetime agency heads from lobbying themselves.
Warren knows neither proposal is likely to become law anytime soon, but each could easily help form the backbone of an eventual nationwide platform, and introducing them to the party's national conversation early effectively grants Warren ownership of the ideas, which other potential White House contenders may eventually embrace. Her timing could hardly have been luckier: Just hours after she was done explaining her corruption legislation, Donald Trump's former attorney Michael Cohen pleaded guilty to campaign finance law violations and tax fraud, implicating the president; former Trump campaign chairman Paul Manafort was convicted in his financial fraud trial; and Congressman Duncan Hunter was indicted for his own alleged improper use of campaign funds.
Yet it was a little-noticed passage of her reveal that may have presented the clearest signs that she's stepping toward a run. Warren — who is up for re-election in November, but who is unlikely to face anything close to a real challenge — publicly said for the first time that she has now formally stopped taking not just corporate political action committee money — as other likely 2020 contenders and down-ballot candidates have done — but all PAC money, as well as funds from federal lobbyists. (This is a new policy for her.) Two days later, she pushed on, complying with one of her new proposals by publishing her tax returns — ten years' worth — a move that provides a clear contrast with Trump, whose taxes remain shrouded in mystery, and also with Sanders, whose own tax returns were briefly a point of contention during 2016's primary fight.
Warren's recent moves haven't been restricted to Washington. While the senator continues avoiding trips to the important presidential nominating states of New Hampshire and Iowa, turning down repeated invitations, according to local officials, two of her aides in recent weeks decamped to New Hampshire for new jobs with the state's Democratic Party committee — one as its new communications director, and another as its political director. It's a classic move for potential presidential hopefuls whose staffers are eager for face time and connections in early-voting states. "If she decided to run in New Hampshire, it would be good to have access to people with New Hampshire experience," explained Kathy Sullivan, a former chair of the state party. "It's not an unusual thing for us to see people who may have been associated with candidates, in both parties, who come up to New Hampshire in the midterms" before a presidential race.
Warren has also recently stepped up her endorsements and fundraising for House and gubernatorial candidates across the country, including in some long-shot races where she has little obvious connection to the candidate: She raised eyebrows in Washington this summer for popping up at a Democratic Congressional Campaign Committee breakfast, and her list of endorsees — some of who could turn into powerful, and grateful, supporters next year — stretches into the dozens. Sometimes, she helps candidates far from the public eye. In July, for example, she headlined a D.C. fundraiser for New Mexico congressional candidate Deb Haaland, who is likely to become Capitol Hill's first Native American congresswoman. But sometimes, Warren jumps into the center of the House news cycle: Almost immediately after Hunter's indictment this month, she started sending fundraising emails for his Democratic challenger.
The growing collection of dots are accumulating after months of preparation that have already seen Warren actively work to build her political capabilities, strengthen her party connections in Washington and around the country, shore up her biggest weaknesses, and burnish her national profile.
Warren has yet to announce she's running, of course, and she continues stumping in Massachusetts for her reelection bid with frequent town hall events. But add her recent flurry to her team's previous work, and you unmistakably have the seeds of a national campaign that could spring together if Warren ultimately decides to say "go."
And that's been enough for Republican campaigners who've been working to solidify her as a phony in the public's mind before she can introduce herself on her own terms.
National GOP leaders still point to their pre-2016 campaign work of poisoning Clinton's image as a model for what they're trying to do to Warren. That work has sped up in the last few weeks: Republican researchers have been combing through Warren's newly released tax returns searching for new issues to which they didn't previously have access in recent days.
"In her attempt to position herself, she's brought herself to the forefront, and we're happy to make the public aware of her record," said Sarah Dolan of the GOP opposition research group America Rising, which has been tracking Warren for well over a year. "We know she's running."