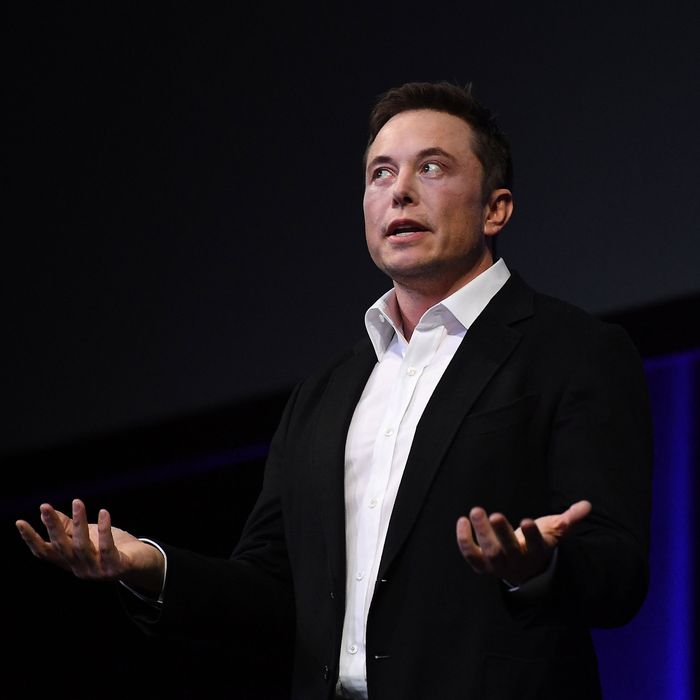 When the kush hits.
Photo: Mark Brake/Getty Images
This afternoon, the elite brain genius Elon Musk tweeted out an idea.
Is it a joke? Was he serious? Nobody has any idea. Here's the reason it might be a joke: 420 is the weed number; blaze it. Here's why it might not be a joke: $420 per share would be the highest that Tesla stock has ever gone, meaning that setting that number as the goal would push Tesla's market cap to record size.
A spokesperson for Tesla told the Financial Times that it "could not confirm whether the tweet indicated a serious intention to privatise the company." If Musk is serious, his tweet could be seen as an illegal manipulation of the market, triggering an inquiry by the SEC and some sort of penalty. Trading of Tesla shares was halted in the meantime, but not before their price rose 10 percent, to about $380.
CNBC's Alex Sherman tweeted, "I've been on the phone with a handful of people in the past 20 min who think they should be in a position to know if Elon Musk has secured $70b+ in financing, and so far, no one has a clue."
It looks like, once again, Elon Musk said something outlandish on Twitter and got everyone's attention. A few weeks ago, a rescue diver criticized the boy canister that Musk hastily invented to rescue a group trapped in a cave in Thailand, and Musk retaliated by accusing him of being a pedophile.
Seeking to legitimize his odd announcement, Musk was forced to write an entire blog post.
First, a final decision has not yet been made, but the reason for doing this is all about creating the environment for Tesla to operate best. As a public company, we are subject to wild swings in our stock price that can be a major distraction for everyone working at Tesla, all of whom are shareholders. Being public also subjects us to the quarterly earnings cycle that puts enormous pressure on Tesla to make decisions that may be right for a given quarter, but not necessarily right for the long-term. Finally, as the most shorted stock in the history of the stock market, being public means that there are large numbers of people who have the incentive to attack the company.
Musk said that, ultimately, it would come down to a shareholder vote in deciding whether the company would go private. "Either way, the future is very bright and we'll keep fighting to achieve our mission," he concluded.
A busy day for Elon, maybe he should find a way to … relax. It's 4:20 somewhere.