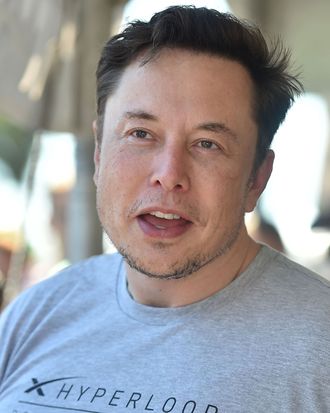 Elon Musk.
Photo: Robyn Beck/AFP/Getty Images
Just a few weeks ago, after a string of bad decisions on social media, Elon Musk was giving a sobering, vulnerable interview to the New York Times, confessing that he'd been "working up to 120 hours a week recently," and that he hadn't taken a week off in nearly 20 years. He might consider taking that vacation soon, given that he's already back to accusing a rescue diver of being a pedophile.
A quick recap: Earlier this summer, after news broke of a soccer team and their coach who were trapped inside an underwater cave in Thailand, Elon Musk rushed to help. Or, well, "help."
The Tesla and SpaceX CEO told the world, mostly via Twitter, that he was building a "tiny, kid-size submarine" to help evacuated the team. Narongsak Osatanakorn, the head of the Thai rescue operation, would later politely describe the sub Musk brought to Thailand as "not practical." British cave diver Vern Unsworth (one of the people who did the heroic rescuing) was blunter, hailing it a "PR stunt" and saying Musk should stick his submarine "where it hurts."
For this, Musk fired up the ol' Twitter and declared Unsworth a "pedo" to his 22 million followers. The accusations were completely unfounded and Musk later apologized. "My words were spoken in anger after Mr. Unsworth said several untruths & suggested I engage in a sexual act with the mini-sub, which had been built as an act of kindness & according to specifications from the dive team leader," he tweeted on July 18. Which was, if you check your calendar, over a month ago.
Today, however, Musk decided to reverse course and reintroduce those accusations, saying he finds it "strange" that Unsworth never sued him over the "pedo" comment. It all started, as it often does, when Musk tweeted to deny that he cried during that recent New York Times interview. (Specifically, he was responding to a Forbes piece about how a woman in Musk's position wouldn't cry during an interview because it would be perceived as weakness. Which, frankly, appears to be how Musk sees it too given his denial.)
How did this tempt Musk into bringing up the "pedo" diver? Great question. Glad you asked. Drew Olanoff, VP of communications at Scaleworks, a venture equity fund, tweeted at Musk, noting that this sudden commitment to accurate reporting would have been useful earlier this summer. "One other thing, Elon. Your dedication to facts and truth would have been wonderful if applied to that time when you called someone a pedo," Olanoff wrote. Which prompted Musk to reply and basically imply that his possibly libelous claims might not have actually been libelous because Unsworth didn't sue him. As though Unsworth had something to hide that might have come to light if he'd sued Musk.
The conversation between the two only devolved from there and eventually ended up with Musk critiquing Olanoff's choice of Twitter handle, @Yoda.
There's really not much else to say here other than to remind you all — and by "you all" we mean Elon Musk — that you do not have to tweet. You really don't. It has gotten you into trouble before … and that was before the SEC was involved.