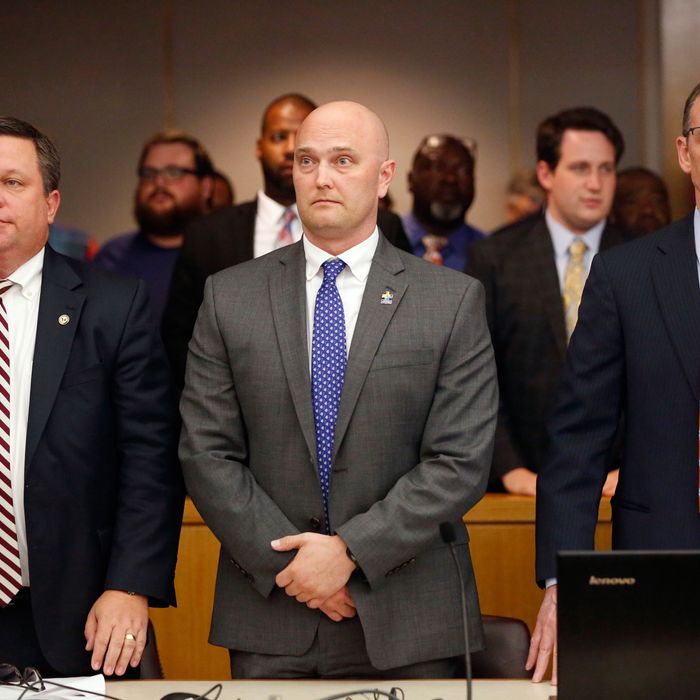 Former police officer Roy Oliver was convicted of murdering Jordan Edwards.
Photo: Rose Baca/Getty Images
The 37-year-old white police officer who killed Jordan Edwards, a black 15-year-old, in a Dallas suburb last April was convicted of murder Tuesday. Roy Oliver, a veteran of the Balch Springs Police Department, shot Edwards on the night of April 29 after he and his partner responded to a call about underage drinking at a house party.
The officers were in the home when they heard gunshots outside. Oliver ran to his patrol car to get his rifle while his partner, Tyler Gross, attempted to stop a Chevrolet Impala that was driving away from the party. Within a minute, Oliver had fired his gun into the car, killing Edwards, who was sitting in the passenger seat.
"Oh, praise God!" someone shouted outside the courtroom Tuesday after the verdict was read. "I just want to say I'm happy, very happy," Odell Edwards, Jordan's father, told reporters. "It's been a long time, hard year. Just really happy."
In the immediate aftermath of the shooting, Oliver claimed that he thought the car carrying Edwards, his brothers, and a couple friends, was trying to hit Gross, his partner. Balch Springs Police Chief Jonathan Haber initially backed him up, claiming that the car was moving toward the police. But body camera footage told a different story and by early May, Haber recanted and fired Oliver.
Footage from Oliver's own body camera shows him joking around with kids in the house, before storming outside, sprinting in the darkness and firing on the car, which was moving away from the officers when he pulled the trigger. Gross, who did not fire on the car, testified that he did not feel as if he was going to be hit.
Oliver is the rare police officer to be convicted for an on-duty shooting. According to the Fort Worth Star-Telegram, the last time an officer was convicted for killing someone in an on-duty shooting was in 1973. After Tuesday's verdict, the Edwards family attorney, Daryl Washington, invoked the names of other black men and boys killed in recent high-profile police shootings.
"We don't want another parent to have to go through what this family has had to deal with," he said. "This case is not just about Jordan. It's about Tamir Rice, it's about Walter Scott, it's about Alton Sterling, it's about every African-American … who have been killed and who have not gotten justice."