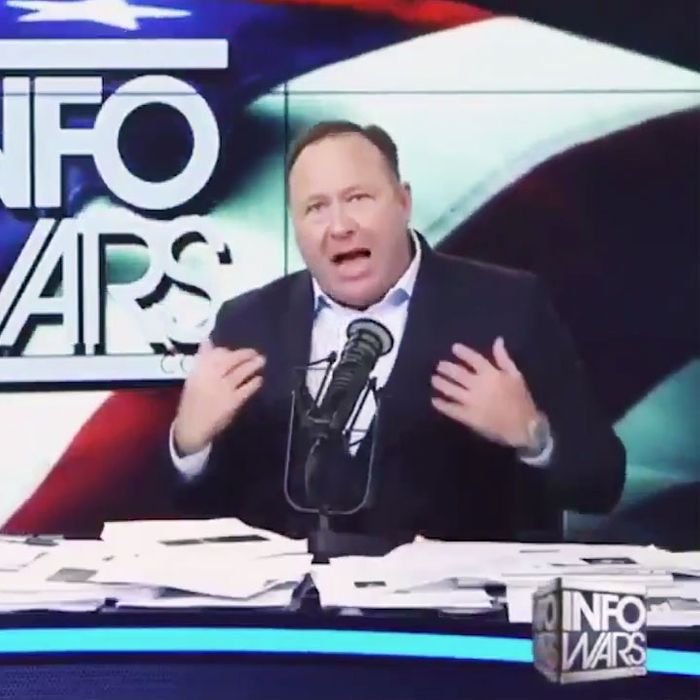 The web's largest platforms have finally had enough of Infowars, the inflammatory, conspiracy-theorist outlet run by Alex Jones. Over the last 24 hours, Apple, Spotify, and Facebook have removed Infowars's presence from their platforms almost entirely, citing various reasons.
BuzzFeed News first reported that Apple's podcast directory in iTunes had disappeared at least two Infowars podcasts. In a statement, Apple said, "Apple does not tolerate hate speech, and we have clear guidelines that creators and developers must follow to ensure we provide a safe environment for all of our users." It added, "We believe in representing a wide range of views, so long as people are respectful to those with differing opinions."
Facebook — which came under criticism last month for being unable to give a clear answer that justifies Infowars's continued presence on the network — has also taken down numerous Infowars pages. Last month, the company removed four videos posted by the outlet and placed Jones's personal account on a 30-day suspension, preventing him from administrating pages. Now those pages are gone, too.
Infowars has been "permanently" banned, according to editor Paul Joseph Watson.
In a statement clarifying (maybe) its position, Facebook said that since Jones's personal suspension, "more content from the same pages has been reported to us — upon review, we have taken it down for glorifying violence, which violates our graphic violence policy, and using dehumanizing language to describe people who are transgender, Muslims and immigrants, which violates our hate speech policies." The social network uses a strike system for users and pages.
Earlier today, the Infowars channel vanished from YouTube. The video site released a similar statement about hate speech and Infowars receiving too many strikes. "When users violate these policies repeatedly, like our policies against hate speech and harassment or our terms prohibiting circumvention of our enforcement measures, we terminate their accounts," it said.
Spotify also removed Jones's podcast from its directory. Last week, after criticism, Spotify removed certain episodes, but did not take down the entire program. Following Apple's lead, however, it excised the entire thing, similarly citing the company's hate-speech policy.
Facebook, oddly enough, went out of its way to distinguish that Infowars had been deplatformed for hate speech and not spreading false information (among other things, Jones continues to say that the 2012 Sandy Hook shooting was a hoax, and recently said Robert Mueller was a pedophile). "While much of the discussion around Infowars has been related to false news … none of the violations that spurred today's removals were related to this," it said. In other words, Facebook felt fine making a punitive judgment call on hate speech, but repeated, willful spread of misinformation was something Facebook still considers up for debate.
Update, August 6, 2018, at 12:30 p.m.: This post has been updated to include YouTube's enforcement.