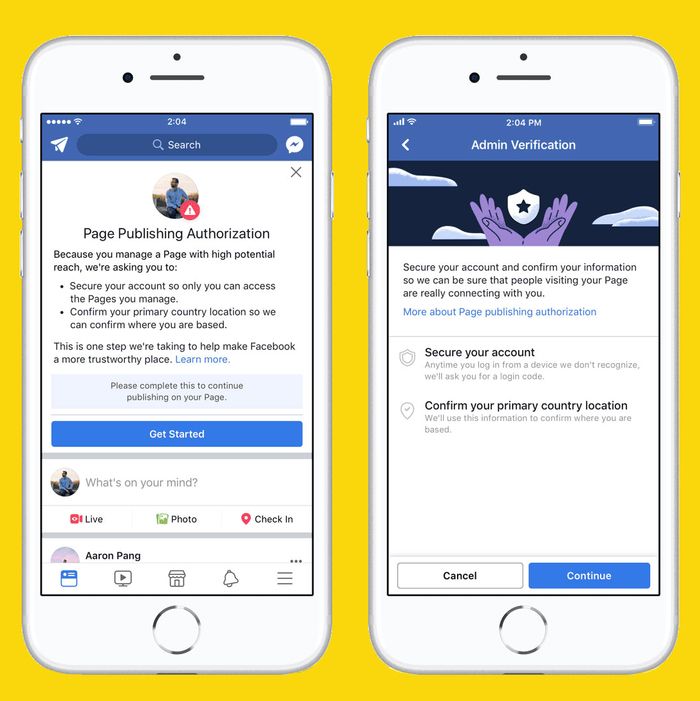 Shoring up bad actors and inauthentic behavior on its platform, Facebook will now "authorize" admins of Pages with large followings. In addition, the company will provide more information about a Page's history on the platform, so users can figure out how they ended up suddenly following a page like Che Guevara's Revolutionary Memes for Motorcycle Teens (I made that up but maybe it's real).
Pages "with a large audience in the US," according to Facebook, will now need to provide more info in order to continue reaching their audience. Page managers will need to secure their accounts with two-factor authentication and provide their primary country. So if you were, for instance, operating a page called "Resisters" from Russia, your followers would be made aware.
Pages will also contain features like a merger history. So if the audiences of two separate Pages get combined into one super-Page with a different name, users can learn how they got there. The country information mentioned above will also be publicly displayed, so that people can know where Page managers are broadly located, even if they can't find out who exactly is doing the posting.
Facebook said Instagram will receive similar features, and that "Our goal is to prevent organizations and individuals from creating accounts that mislead people about who they are or what they're doing." It's unclear what constitutes a "large audience" under Facebook's system.