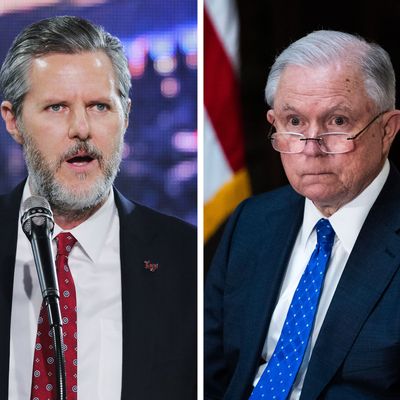 Jerry Falwell Jr. and Jeff Sessions were equally fervent Trump supporters, until Sessions failed to protect Trump from a Russia investigation.
Photo: Chip Somodevilla/Getty Images; Jabin Botsford/The Washington Post via Getty Images
In January 2016, Liberty University president and Christian-right scion Jerry Falwell Jr. made a big splash by endorsing Donald Trump for president, at a time when most conservative Evangelical leaders were still wary of the heathenish mogul. A month later, Jeff Sessions made an equally big splash by becoming the first U.S. senator to join Team Trump.
If anything, Sessions's star shone brighter in the Trump firmament as he showed the way for other conservative Republicans to embrace the candidate's America First ideology, shaped largely by former Sessions staffer Stephen Miller. Sessions also reinforced Trump's Christian-right street cred, as a deeply religious man who routinely won 100 percent ratings from groups like the Christian Coalition for his voting record on hot-button issues ranging from abortion to "religious liberty."
But now there is apparently a different litmus test for both Trumpism and Christian-right fidelity, and it has nothing to do with "issues" in the conventional sense of the term. It's all about serving the master, and not the one in the Kingdom of God, as Politico reports:
Jerry Falwell Jr., a top conservative religious leader, said Monday he urged President Donald Trump to fire Jeff Sessions over his handling of investigations into Russian election meddling, saying the attorney general has lost evangelicals' support …




In forsaking Sessions, faith leaders are turning on one of their own, a man who for decades fought in the political trenches for conservative Christian causes.
It's not just Falwell: Politico quotes Christian-right warhorse Gary Bauer as saying, "There's growing disillusionment in the conservative faith-based community" with Sessions. And why?
Falwell said Sessions lost the group's loyalty "a long time ago" and has not stopped the Justice Department from going after Trump's allies. Last week, the president's former campaign manager Paul Manafort was convicted of fraud and his onetime lawyer, Michael Cohen, pleaded guilty to tax evasion and campaign finance violations.
So not that long ago, conservative Evangelical leaders cared intensely about things like carving out a right to discriminate against this or that sinful group or behavior on religious grounds, a position fiercely championed by Jeff Sessions as Attorney General of the United States as recently as last month in his announcement of a new task force on "religious liberty." Now, it's about protecting righteous men like Paul Manafort and (before his apostasy) Michael Cohen. Soon, the holy men will probably be invoking God's protection for another great man of faith, Roger Stone.
The Christian-right's litmus tests have evolved rapidly during the Trump administration, following with cruel logic the once-laughable premise that the 45th president is now the indispensable man in restoring godly governance. It's also possible that Falwell isn't really angry at Sessions, but is simply trying to curry favor with Trump by embracing his unsavory vendetta against his own Attorney General. Perhaps like the daughter of King Herod in the biblical account of John the Baptist's death, Falwell is saying, "Bring me the head of Jeff Sessions," as part of a dance for the entertainment of his beloved sovereign. In any event, Sessions must feel betrayed.