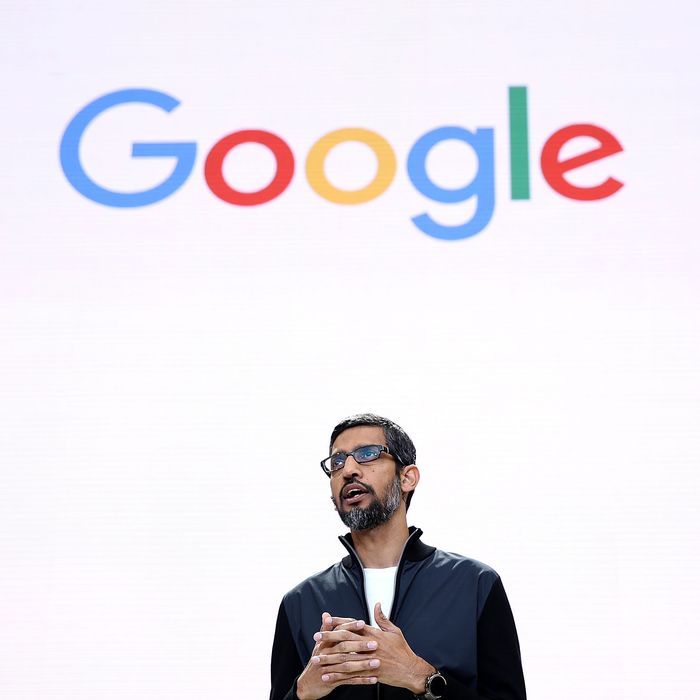 Google CEO Sundar Pichai.
Photo: Justin Sullivan/Getty Images
Ealier this month, the Intercept reported that Google was working on a version of its search engine that complied with strict censorship laws that have, for the past decade, kept it from operating in China. The project, code-named Dragronfly, involves creating a custom version of the Google app that would allow China's government to exercise control over what Google displays to users, in some cases hiding results for certain queries entirely.
Following the news, more than a thousand Google employees have signed a letter to the company expressing concerns over the initiative. According to Bloomberg, Google CEO Sundar Pichai responded to the uproar yesterday. He told employees that the plans for the neutered search engine are in the "early stages" and "exploratory." Pichai said that the company was "not close" to launch and expressed skepticism about whether they could. None of these statements, however, address the fact that Google is interested in doing so.
Part of the issue is that Google has reported been working on Dragonfly in secret within the company. The information-suppression system, should it be brought to China, could set a concerning precedent and theoretically be demanded by other governments as well.
"I genuinely do believe we have a positive impact when we engage around the world and I don't see any reason why that would be different in China," the CEO said. He pledged to be more transparent should any concrete plans take shape.