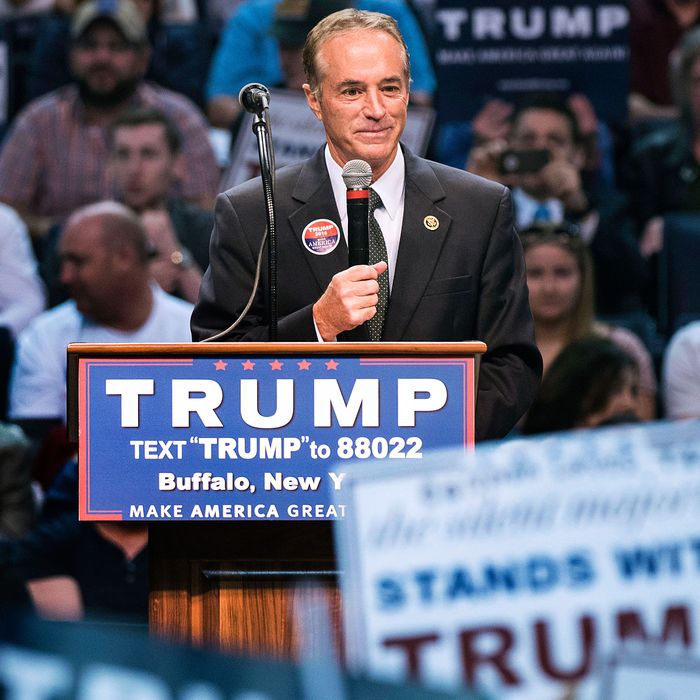 Collins was the first congressman to endorse Donald Trump.
Photo: Al Drago/CQ-Roll Call,Inc.
New York congressman Chris Collins was arrested Wednesday and charged with conspiracy to commit securities fraud. Cameron Collins, son of the 68-year-old legislator, was also arrested, along with Stephen Zarsky, whose daughter is engaged to the younger Collins.
The insider trading crimes concern Innate Immunotherapeutics, an Australian biotech firm in which both Collins men were major shareholders. According to an indictment unsealed Wednesday, the elder Collins learned that a drug from the company failed an FDA trial while he was at a White House picnic in June of 2017. He quickly got on the phone and passed that information to his son, who dumped the stock before the two men even hung up. The indictment says the trades allowed Cameron Collins and others to avoid more than $768,000 in losses.
Collins's lawyers say they will clear Collins' "good name" and cite the indictment's lack of any allegation that Collins himself "traded a single share of Innate Therapeutics stock." Indeed, Collins lost $17 million when the company's stock pice dipped down to five cents, according to reports from last June. This came after he was reportedly encouraging other members of Congress to buy stock in the company. "If you get in early, you'll make a big profit," he told colleagues, according to The Hill. Collins has also pushed several bills that would have benefitted Innate, which has gotten the attention of the the House Ethics Committee.
An early supporter of Donald Trump, Collins, who represents suburbs of Buffalo and Rochester, was the first congressman to endorse him, in February of 2016.